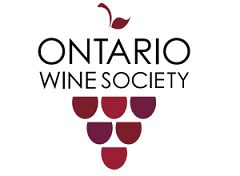 The Ontario Wine Society (OWS) was founded in 1991 as a way for wine enthusiasts to discover, appreciate and support Ontario wines. They have an active schedule of events throughout the year – and throughout the Province – including tastings, dinners, trips to visit wineries, and more. The society also produces a regular newsletter for all members and eSubscribers. The newsletter has articles about what's going on in the wine industry, as well as interviews with winemakers and others involved in the wine industry, as well as a listing of upcoming OWS events at events at wineries.
The society, which is largely volunteer run, has five chapters – one in each of the main wine regions in Ontario: Niagara, Windsor-Essex, and Prince Edward County, as well as one in Toronto and One in Halton.  Members can attend events put on by any of the chapters.
Membership Has Its Privileges

Joining is easy and inexpensive – you can join on-line. Membership is $40 for the first year, and $30 for annual renewals thereafter.  Members also often enjoy reduced rates at events sponsored by other wine societies.
Helping Spread the Word
I'd like to give a personal thanks to the OWS — they have been very helpful in spreading the word about the Ontario Wineries Guide.