Few sounds are as magic to me as the pop of a champagne cork. It signals the promise of pleasure and celebration – even if it's just the celebration of enjoying a glass of bubbly. But, the down side of popping a cork on a bottle of bubbly is that if you don't finish it fairly straightaway, there won't be any bubbles left the next day.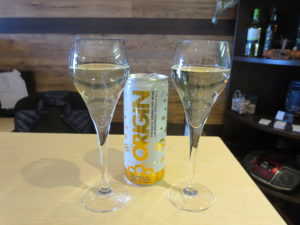 Of course, you can find small bottles of bubbly, but unless you're willing to pay a premium for a 375 ml bottle of some French champagne like Moet & Chandon or Veuve – some producer that uses real cork in its small bottles, chances are you're sacrificing the pop for a twist.
Now, thanks to the folks at the Genesis Wine Group, Inc. – the Wertsch brothers (Yannick and Greg) who own Between the Lines Winery and their partners Philip Chae and Lucian Cao – you can now get Origin, an Ontario-made sparkling wine in 250 ml pull-tab cans.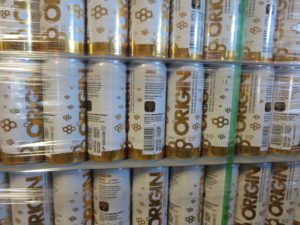 Origin debuted in January 2016 and became a hit quickly. Crafted using the charmat method, it's make of 100% Vidal with a dosage of Vidal icewine. Yannick Wertsch, the winemaker, explained that they wanted to create a signature product that's uniquely Canadian. They chose Vidal because not only is it the most common grape in Ontario, it's a grape that isn't grown in Europe. Also, using Vidal icewine for the dosage is another uniquely Canadian attribute of the wine.
Click here to watch a short video of Yannick Wertsch talking about Origin.
The young entrepreneurs behind the Genesis Wine Group have invested in innovation (not to mention bottling equipment) that they hope will be a game changer for the industry. They're also intent on setting the standard for canned wine and with the launch of Origin, it seems they're well on their way.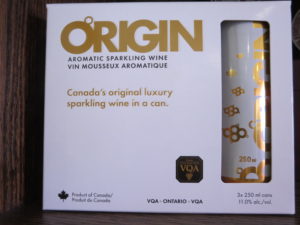 Origin, a VQA product, is now available in about 60 LCBOs throughout the province.