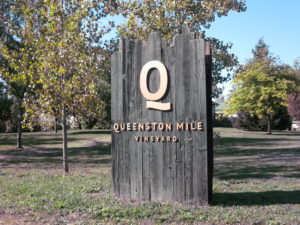 Queenston Mile Vineyard is one of the newest wineries in Niagara-on-the-Lake. It opened in November 2018.
I had read that Rob Power is the winemaker at Queenston Mile and I wondered if that meant he's moved on from Creekside Estate Winery, where he's been winemaker for years. Indeed, that was one of my first questions when I visited. Jodie Larmond, who was minding the tasting when I visited, explained that Creekside and Queenston Mile are sister wineries (owned by the same group) and Rob is the winemaker at both.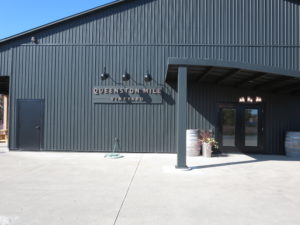 Queenston Mile has a very different vibe than Creekside. It's housed in a warehouse-looking building that was on the property before the winery took it over. The tasting room is quite large, but it has a comfortable feel, with clusters of tables here and there, and private space in a loft area. Currently, they aren't serving food, but Jodie thinks that's in the works (likely something along the lines of the casual fare available on Creekside's Deck). So, stay tuned…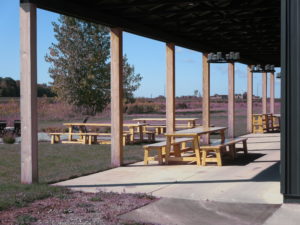 Queenston Mile specializes in Pinot Noir and Chardonnay. They also make a variety of sparkling wines, including one made using the Pét-Nat method. I'd never heard of that and Jodie was kind enough to explain it. Pét-Nat stands for pétillant naturel. It's an ancient method that involves bottling wine that's partially fermented. That means that the first and only fermentation continues in bottle and the gas absorbs into the wine quickly and is ready to be drunk within a shorter period of time than other methods.
Queenston Mile's Pét-Nat Pinot Noir Rosé is a vibrant, dark rosé. Because it's unfiltered, there's a fair bit of sediment, making for a cloudy, deep rose.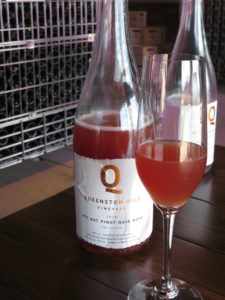 Here's a video of Jodie talking about the winery and demonstrating the decanting of their Pét-Nat Pinot Noir Rosé.