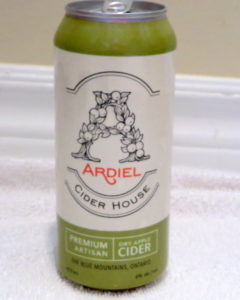 Found another fantastic Ontario craft cider: Ardiel Cider House Dry Cider. A friend brought it sailing — I think he got it at an LCBO in Bolton.
The label says it's from The Blue Mountains, Ontario. So, my guess was that it's somehow related to Georgian Hills Vineyards — they're up in the Blue Mountain area and I had a recollection that one of the winery owners was named Ardiel and was a big apple grower in the area. (Another owner is a  Puddicombe — a fruit growing, winemaking family that's also behind Sir Isaac's Pear Cider; the third owner, Robert Ketchin, has been involved in the Ontario wine industry for years.) Sure enough, Ardiel is produced by Georgian Hills Vineyards.
I wish I had a photo of the cider for you — it's very pale. (We also had some Brickworks Batch 1904, which was the same colour of the beer others were enjoying. Ardiel Dry Cider is the pale straw colour of a Sauvignon Blanc.) It's very crisp — one of the driest Ontario ciders I've tried, which is how I like them. It's 6% alcohol/vol.
It's available at Georgian Hills Vineyards and at some LCBOs — it's definitely worth looking for!
I love discovering new Ontario craft ciders — they're a wonderful expression of Ontario's bounty and craftsmanship.