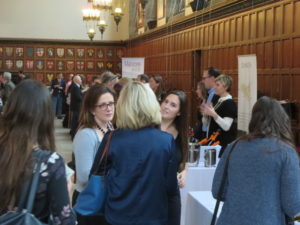 Noble Estates Wine & Spirits, a wine agent here in the Toronto area, hosted a fantastic event in Toronto a couple weeks ago: Celebrating Women in Wine.  The event featured women from 20 wineries around the world.
The list of women was impressive – there were owners, winemakers, enologists, and women who hold important behind-the-scenes functions that no modern winery can do with out: positions related to sales, marketing, and export. Though many attendees were there primarily to taste the wines, I saw it as a rare opportunity to chat with a bunch of incredible women who are driven by hard work and a love for wine.
The first woman I spoke with was Emanuela Stucchi Prinetti, Proprietress of Badia a Coltibuono, a winery in Siena, Tuscany.  Though she grew up in Milan, the winery has been in the family for 170 years. In the 1980s she began doing marketing for the winery and she now manages it, with her brothers looking after sales and the restaurant.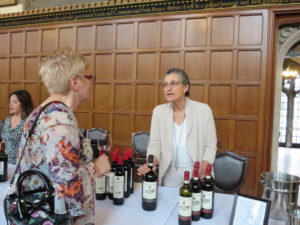 Since I was unfamiliar with Badia a Coltibuono, I asked whether it's the type of winery that's considered a destiny. In a wonderfully modest fashion, Emanuela indicated that the winery, which used to be an abbey, is very much a destination, with rooms, a restaurant, and even a cooking school. When I asked her how the cooking school came about, she explained that her mother was a "food writer". When I asked what that means, she explained that her mother was a well-known cookbook author who also had a cooking show on PBS for a time. Indeed, it turns out her mother is Lorenza de Medici, author of over 30 cookbooks. In terms of their wines, Emanuela described their Chianti as a wine that "shows the history of Chianti" – and with the pedigree of the family and the winery, it's hard to argue with that!
I then went in search of Beth Nickel, Proprietress of the famed Napa winery Far Niente  With the recent news of the devastating fires in California, the first question was about the fate of their winery and vines, and of the general region. She said a few wineries were damaged, but theirs were not. She also affirmed reports that the vineyards proved to be a natural defense to the fires because the vines hold so much moisture. Nonetheless, she showed photos and said it was a frightening experience and she and her family were evacuated for 10 days.
Beth and her husband Gil launched Far Niente in the late 1970s and I thought I read that they had just sold it. She explained that they took on a new partner last year, but that they are still very much involved. She was especially excited to talk about their Nickel & Nickel wines, which are all single vineyard.
Marta Casas, winemaker of Parés Baltà , a winery outside Barcelona, had an interesting story too. It turns out she and the other winemaker there married into the business. Marta is married to Josep Cusiné and Elena Jiménez, the other winemaker, is married to Joan, Josep's brother. Together, the brothers manage the winery.
Marta, who began her professional career as a pharmacist, was always interested in wine and she eventually decided to go back to school to study it. I'm not sure when exactly she and Josep met, but clearly their common interest in wine must have played a part in them being together and working at Parés Baltà. Given that Barcelona's been in the news lately as well, I took the opportunity to ask Marta about it. She confirmed that things are a bit tense now, and they don't know what the future holds. But, she was much happier to talk about winemaking and about the fact that their winery is organic and biodynamic. One of her wines – their Cava Brut NV – which is made of the classic Catalan blend of Parellada, Macebeo, and Xarel-lo, was one of my favourites at the event.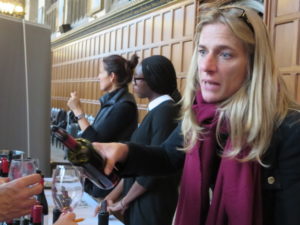 Barbara Widmer, owner and winemaker at Tuscany's Casa Brancaia, was there pouring her "super Tuscans" – basically Bordeaux-style blends that feature Sangiovese and other grapes that are not indigenous to Italy. Her TRE, named because it's a blend of three wines: 80% Sangiovese with a mix of Merlot and Cab Sauv, was lovely. Widmer, who doesn't look or sound Italian, is, in fact, from Switzerland. Her parents bought the property and started the winery in Tuscany while living in Zurich. Having summered at the winery while growing up, Barbara realized she wanted to be in the business and in she took over winemaking there in 1998.
The wine business – especially when it comes to Old World wineries – is often a family business. So, it's not surprising that some of the women I spoke with had family connections. But, that doesn't mean their entrée into the business was a snap. Indeed, the story of Françoise Antech, Proprietress at Antech Limoux, is an example of the fact that even within a family, women can face barriers. Though her grandmother had been involved in the winery, when she expressed interest in working in the family business, her father discouraged her. So, she made her way in the world, working in the perfume business for many well-known French firms. Eventually, with enough business experience behind her, she reasserted her interest, and the rest is history. Since 1996 she has worked alongside her father and uncle at the estate that specializes in sparkling wines.
I'm very pleased to note that the event also featured a few women from the Ontario wine scene: Elisa Mazzi, who has been assistant winemaker at Malivoire for seven years, and Beth Whitty, Proprietress of 13th Street Winery. I am embarrassed to say that though I've frequently visited both these wineries, I had not met either of them. I promised both that at a future visit I'd speak with them at length and write about their journey through the wine industry.
In closing, I just want to say hats off to Mark Coster of Noble Estates Wine & Spirits. I understand he played a big role in putting this event together. It is a terrific idea and one that I hope is repeated and perhaps grows, celebrating more women in wine.