Though the focus of this blog is wines of Ontario, there's a big world out there and it's always nice to learn about what other countries are doing. So, when wineries of other countries host wine events in your home town – if you have the chance to partake – you should.
I always look forward to events curated by Wines of Chile – a non-profit organization of Chilean wine producers dedicated to promoting Chilean wines. Yesterday they hosted Drink Chile 2022, which featured a number of events here in Toronto – including a Masterclass Tasting and a consumer walk around tasting featuring over 120 wines.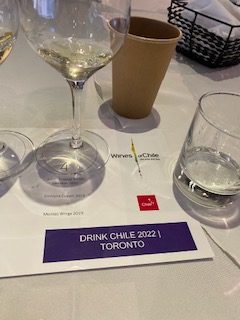 With the pandemic, it's been a few years since we've had such events, so I was looking forward to it – particularly the masterclass, which featured Amanda Barnes DipWSET and John Szabo, Master Sommelier. Barnes, an award-winning wine writer and the author of The South America Wine Guide, presented four themed flights that showed the amazing ranges of varietals and styles produced in Chile.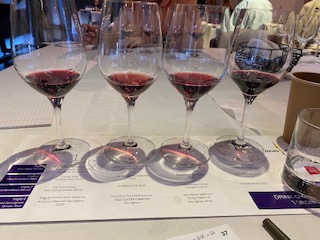 The second flight, for example, was meant to showcase Chile's interpretation of what we typically think of as Mediterranean Reds. The first two wines in this flight were País – a variety that I'd never heard of, much less tried. Known in California as the Mission grape, it is one of the oldest cultivated grapes in the Americas.
The first of the País was Garcés Silva's Catalino País 2019 (Vintages 25638). The wine is made from 100-year-old vines from the Maule Valley. The second País, also from the Maule Valley, was Las Veletas' Almaule País 2021 (not currently available from the LCBO), which was from much younger vines. I much preferred the Almaule País, but my friend preferred the Catalino País! That's what makes these tastings so special – the chance to compare the same variety as interpreted by different winemakers. Having now been introduced to the País, I made sure to try a few other examples of it during the walk around tasting.
I think a lot of people feel daunted at the prospect of picking up wine from a region they might not know much about. If you're in that camp, next time Wines of Chile comes to town – go. It is an unparalleled opportunity to learn by talking with winemakers and wine agents AND to taste all sorts of wines at all price points. I know I left with a few Chilean wines added to my list of favourites that I can't wait to share with friends.