I was in Cincinnati last weekend for a family event and on Victoria Day, I drove back to Toronto via Detroit/Windsor. I decided on that route because I figured it'd be an opportunity to have lunch in the EPIC (Erie, Pelee Island, Coast) winery region. It proved a delightful detour.
I wasn't sure what my timing would be, so I didn't want to make a reservation. My plan was to have lunch at the Bistro at North 42 Degrees Estate Winery . Fortunately, I was a bit on the early side for lunch and it wasn't too busy at that point, so getting a table wasn't a problem.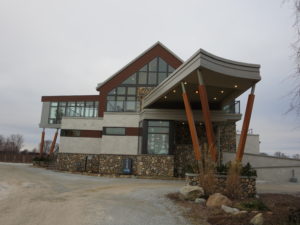 I had stopped in to see the Bistro last time I was in the region. The new building (opened in late 2017) is unique and quite impressive. It's designed to be a compass rose, with angles jutting out over the vineyard. On the first floor, there's a large tasting room and lavender store featuring product from Serenity Lavender, which adjoins the winery. The main dining area for the bistro is on the top floor, which means it has panoramic views of the vineyard.
The menu is pretty standard bistro fare, including "small and shareable" plates including a cheese board and charcuterie board, mussels, shrimp, and so on. The mains were also pretty standard – a pasta dish, a chicken entrée, salmon, a steak, and a lamb shank. In other words – something for everyone.
I have to admit, I was a bit disappointed at the menu's lack of creativity and the fact that there was nothing that was particularly local (or even regional) or seasonal. (I was hoping for some perch, as I know it's local and available now.) Indeed, seems the Bistro's menu hasn't changed much since November.
That said, I ordered the stuffed chicken and my friend ordered the daily gnocchi, which featured four types of mushrooms. After we placed our order, the server brought a bread basket that featured three different types of breads – all house made. The focaccia was good, but the miniature corn muffin was exceptional. Hmm, I thought… things were looking up despite the standard menu choices.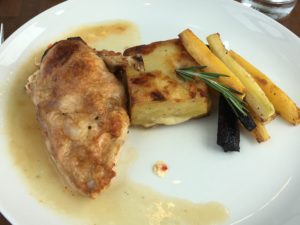 The chicken turned out to be very good. And, I was pleasantly surprised when I saw a square of au gratin potatoes rather than just a few fingerlings. My friend reported that her gnocchi were delicious. Indeed, she's been to the Bistro two or three other times and she said the gnocchi was one of the best things she's eaten there. Because I needed to get back on the road, we didn't take time for dessert.
The Bistro at North 42 Degrees is definitely worth checking out. The service is friendly, the food is tasty, and the view is relaxing. Yet another reason to explore the EPIC region – or even just stop on your way through the region, as I did on my way back to Toronto!
Late – but encouraging – signs of spring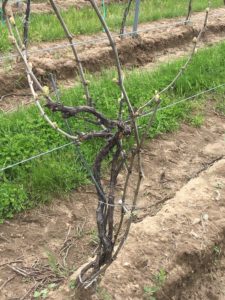 While in Harrow, I also stop at Oxley Estate Winery  to check in with Murray and Ann Wilson to see how the vines are faring.  Of course, I could see for myself that the buds are out and leaves are just starting to pop – such a happy sight. The region's had a cool, wet "spring" which seems to have delayed things quite a bit, but the Wilsons aren't concerned. They've heard from other growers across the province and this year all crops are delayed.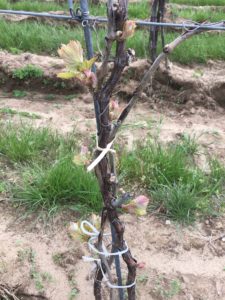 As Murray pointed out, a late start isn't that critical for the EPIC region because they're so far south, grapes usually have extra time to ripen at the back end of the season (late summer and fall).