When a friend phoned me yesterday to see if I wanted to take a drive toward Niagara to have lunch at a winery, my first reaction was: SURE! Of course, I knew he expected me to figure out where we'd go.
My mind went into overdrive, thinking about which wineries between Toronto and Niagara-on-the-Lake have restaurants. A few popped into my head immediately, and I went to their websites to check hours and see if they expect you to make a reservation.
After checking three or four, I realized that it was a Monday – a day that many restaurants – not just those located at wineries – are closed. The Good Earth Bistro at Good Earth Vineyard & Winery, however, appeared to be open. I say "appeared" to be because they didn't answer their phone, which I found a bit disconcerting.
On their website I was able to book a reservation (through OpenTable) and so my friend picked me up and we headed there. (Not to harp on the phone thing, but their website makes it clear that they hold reservations for 15 minutes only – which is completely understandable – and they ask that you phone if you're running late. Well, if they don't answer their phone, what's a person to do? Anyway… we got there 10 minutes after our appointed reservation time and it was no problem.)
In line with Ontario's Covid restrictions, they've moved all of their dining outside. They've been very creative using their space and so we had our choice between covered and uncovered. We chose a bright table adjacent to the garden that overlooks the vines. On looking around, my friend commented about how busy it was – but then they are one of the few restaurants serving on a Monday.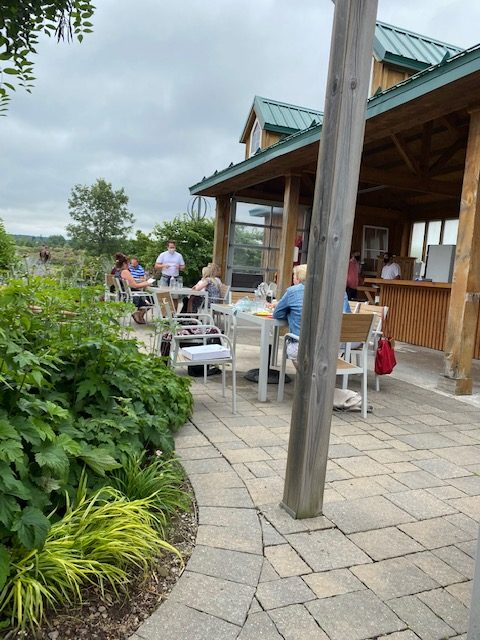 The menu had an interesting variety of options – some Asian-inspired and some traditional bistro fare, with some seasonal features and gourmet twists. One such twist caught my eye and proved irresistible to me and my friend: Steak Frites with truffle parmesan aioli. The medium steak was cooked to perfection and the frites with the aioli were to die for. We also shared the Panzanella salad, as you don't find that on menus too often.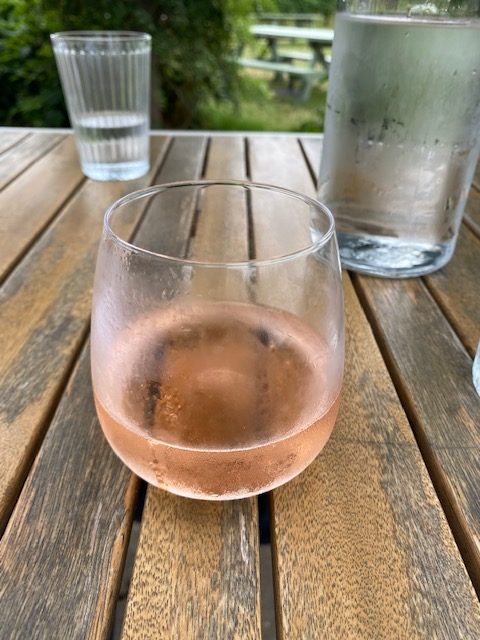 I am not a huge rosé fan – partly because they vary so much. But, when the server assured me the Aria Sparkling Rosé was dry, I decided to give it a try. I was surprised by both the fact they serve it in a stemless wine glass and by how delicious it was. I believe the server said it is a pinot noir/pinot grigio blend. My second glass (I wasn't driving) confirmed how much I liked it and that I'd be taking a bottle to enjoy some summer afternoon at home.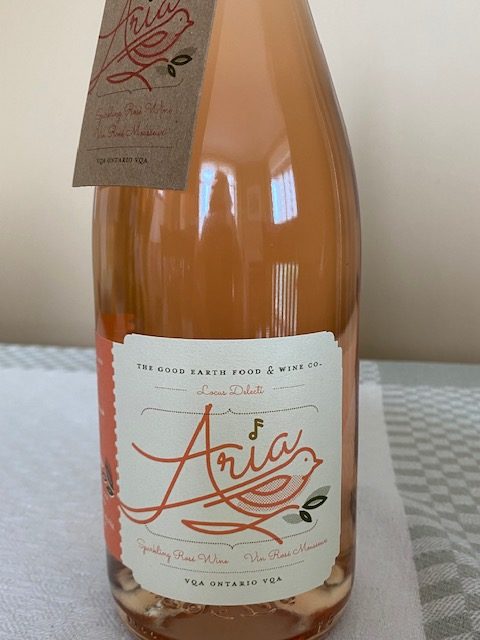 I hadn't been to Good Earth for a long time – too long, I realize. It's definitely a place I'll return to and a place I'd recommend to anyone looking for an Ontario winery to spend an afternoon over a glass of wine and a bite to eat – even on a Monday!