I've always been a fan of Big Head Wines and so when I got an email blast about a weekend event at the winery, I was intrigued. They were hosting a pop-up featuring General Assemblies Pizza. I had heard about GA pizza (as they are known) from some foodie friends but I'd never tried one.
So, a girlfriend and I decided to make a day of it. Given that traffic is back to pre-pandemic levels (even if other things aren't quite), we headed down early on Sunday. I waited a bit too late in the week to get a reservation for a structured wine tasting, but they put our name on a waiting list. So, we agreed it would be good to arrive on the early side. They opened at 11.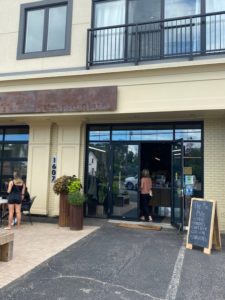 Well, we were a tad earlier than necessary so we decided to go for a coffee. My friend knows Niagara-on-the-Lake like the back of her hand, so she suggested coffee at the Pie Plate. I had been there before and thought it was a brilliant suggestion. To our surprise, when we got there, we found out they moved. To our relief, we were told it's now just around the corner at 1607 Four Mile Creek Road (rather than on Niagara Stone Road).
The new place is huge and it was hopping, which was nice to see. I have to say, as we watched people leave with two and three pie boxes each, I wondered whether there'd be much of a selection left. There was plenty to choose from and we could see a team of four busy rolling out dough for more pies in the glass-surrounded kitchen area. With my coffee I had a fabulous peach pie in tart form and my friend had a bacon and date scone.
Then we headed to Big Head Winery on Hunter Road. The pizza oven was set up next to a large tent where the sour dough, naturally leavened pizzas are crafted. Nearby there were stand-up tables where people could enjoy a glass of wine with their pizza.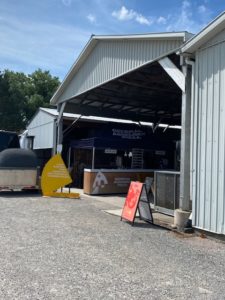 I mentioned to the person who greeted us that we didn't have a reservation for a tasting, but that we were on the waiting list. I told her we were happy to wait to see if there were any cancellations or if they could accommodate us. Andrzej Lipinski, the winemaker and owner, was at a nearby table speaking with a guest. We had met before and – though I don't think he had any reason to remember me – so when he was free, we went up to him to say hello.
I asked him how the grapes are doing this year and he said, "So far, ok – but it's too early to know." He said he likes to pick late and there always the concern about possible downy mildew if there's too much rain.
We talked about the fact that, though most Ontarians will remember 2020 as the year of the pandemic, for winemakers in Niagara, 2020 will be remembered as one of the best vintages ever. This year, in contrast to the lower yields of 2020, the vines are full of grapes. So full, in fact, that he's had to prune bunches out. He also mentioned that 2021's been a busy year for Big Head because they're moving from their current location to a new place they're building on Concession 6. They hope to be in there sometime this fall.
A new way of experiencing bubbly
Waiting a bit paid off. When space opened up in the tasting room, Andrzej led us through a tasting. He gave us the tasting menu, but I prefer to let the winemaker decide what to pour. He asked if we like bubbly and we both quickly confessed we do. (It's my favourite thing to drink.) So, he started us with their non-vintage Big Bang Black, which spent 68 months on the lees.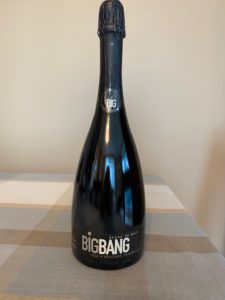 He served it in a regular glass and with the wine sitting in the bottom of the wide bowl, it was difficult to see any bubbles. He scoffed when I mentioned I would have liked to have tried it in a flute because I thought it would be easier to see the bubbles. He explained that what matters is tasting the bubbles on your tongue – not seeing them climbing up the wall of a glass. So, we took another sip with this in mind. It was very interesting… I had never really thought about experiencing bubbles on my tongue. By the third sip, we were both sold. Not only did I leave with a bottle of Big Bang Black, I left with a new way of experiencing bubbly.
We ended up trying a number of reds and whites, with both of us preferring the reds. I think my friend might have been a bit concerned with my candor when he described a few of the whites as being very aromatic and I disagreed because I didn't get much of a nose on a couple of them. I don't think Andrzej minded though because he thinks that each person perceives different things in each wine. Mind you, he did tease me at one point saying maybe my nose is broke!
Always new things to learn
One of the reasons I love doing to tastings at wineries or with winemakers is to hear about various decisions they made for each wine. For example, I find it interested to hear why they decided to ferment in steel, or clay, or concrete, and so on. And, if they mention a term I've never heard, I don't mind asking them to explain a bit about it. Most of the time they don't mind answering because they appreciate people taking an interest in their work.
So, when Andrzej described that the 2018 Raw Malbec underwent "carbonic" and was fermented in concrete, I asked what carbonic means. He explained it's where – before pressing – whole grapes are placed in a tank and fermented using carbon dioxide for a certain period. That basically starts the fermentation. It was also interesting to learn that Big Head's "Raw" series are all unoaked.
Andrzej was very generous with his time and as it started to get busy, we realized others might want to speak with him too. So, we thanked him and said next time we'd see him in the new location. After putting the wine we purchased in a cooler in the trunk, the next decision was about pizza.
Choosing from a list that all sounded good
With a long list of options, we decided we'd order two pizzas and share them. We got the King 'Shroom, which featured mushrooms with gorgonzola and mozzarella, and Loving Cup, which featured a ridiculously delicious amount of pepperoni, mozzarella, and parmesan. We also shared a glass of the Big Red, which we figured would be good with both.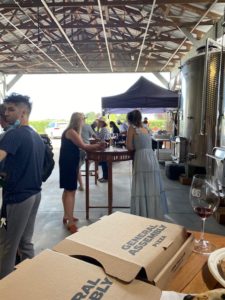 The pizzas were fantastic. The crusts were about as thin as you can imagine while still being sturdy enough to support all the toppings. As we were starting on our second pieces, the person who brought the pizzas to our table passed by. I stopped him to ask what their top seller is. He thought for a moment and said, "To be honest, I think the two you ordered are our most popular. But you know, next time you should try the Dilly Goat – it's amazing."
I had seen a photo of it the Dilly Goat – it's a sea of a green rappini-based sauce with goat cheese and zucchini and then grated cheese (I think it was Grana Padano, but I'm not sure) and a ton of fresh dill. Based on the recommendation, we figured we should try the Dilly Goat too, so we ordered a third pizza! It too was delish…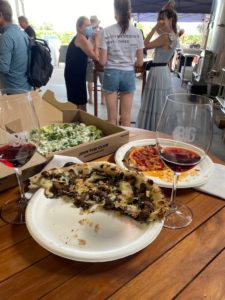 Taste of Normal
Our day at Niagara-on-the-Lake was fun and relaxing – a nice change of pace after many months of staying close to home due to the pandemic.
August and September are the perfect time to visit Ontario wineries. The vineyards are spectacularly lush right now and winemakers are around but not yet crazy busy with harvest and the crush.