On my recent visit to the Lake Erie/Pelee Island area I visited a few wineries that I hadn't been to before, and I also made a point of stopping in again at Oxley Estate Winery – one of my favourite wineries in the area.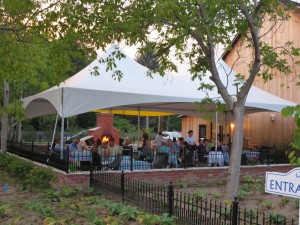 I stopped in to find out what was going on and how their summer went. Co-owner Ann Wilson said they had a busy summer, which is great to hear. In addition to a very attractive tasting bar (one that feels like a well-appointed gourmet kitchen), Oxley has a full-service restaurant on weekends that is very popular. I stopped in on a Saturday night after returning from Pelee Island and I could not get a table on the patio because it was full. Fortunately they had a few empty tables inside, so I stayed for dinner. The dinner was delicious and the service attentive, even though I was the only guest indoors. Next time I'll be sure to make a reservation.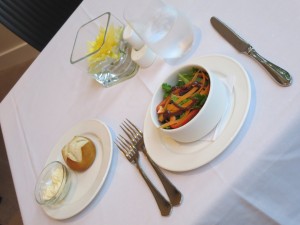 As I sat down to write this blog, I e-mailed Ann to find out if they've started picking and she reported that they've already harvested Auxerrois, Bianca, Hibernal, GM318 and they are  "Picking, sorting and pressing Pinot Noir right now". So if you're in the area over the next couple of weeks, stop in at Oxley – you're likely to find it bustling with the buzz of the crush going on.
As well, on the weekend of September 28-29, 2013 Oxley will be featuring Micah and Delia – musicians who'll be performing lively "east-coast kitchen style music" on their lovely patio.  The duo will perform on Saturday from 5-8 p.m. and on Sunday from 2-4 p.m.