I'm just back from a few days touring around Prince Edward County with two food and wine-loving friends. My friend Sandy and I were visiting Susan and her dozen chickens, who live just outside Belleville.
Before arriving at Susan's, Sandy and I did a bit of exploring of the western end of Prince Edward County (The County). Our first stop was Loch Mór Cider Co. on Danforth Road in Hillier. Sandy had been there before and she raved about their sour cherry cider. I warned her that I don't tend to like flavoured ciders, but she assured me it was dry and delicious. We shared their Flight 1, which included their Hopped Cider; Savvy Pomme Sparkling, which is made using Russet apples; Sour Cherry; and Pommeau, which is a fortified cider.
We both loved the Hopped Cider and I must agree – the dark amber Sour Cherry is delicious. The County is known for its ciders and the Loch Mór Ciders do The County proud. Their tasting room is comfortable and their large patio overlooking the young orchard is very relaxing. They serve light bites that they source locally and that change often, but there's likely to be something you'll enjoy with a tasting flight or with a glass of your favourite cider.
From there we drove into Wellington for lunch at LaCondesa – a Mexican restaurant I went to last year for the first time and I loved it. They do tacos and tostadas. We ordered two tacos each and they were as good as I remembered. It's a cute spot with lots of space indoors and a small, well shaded front patio. I highly recommend it if you're looking for a casual, tasty dining option in Wellington.
The next day Sandy, Susan, and I headed back to explore the southern and more eastern end of The County. Susan was kind enough to be the designated driver and our first stop was Lighthall Vineyards in Milford. We had all been there before, but not recently. They have expanded their tasting area and have also started making cheese. (They buy ewe's milk from a local farmer and they craft the cheese at the winery.)
Sandy and I shared their White flight, which included their Riesling 2022, Pinot Gri 2021, Foundation Chardonnay 2021, which is aged in egg-shaped cement barrels, and their Estate Chardonnay 2019, which is lightly oaked. They do a lovely job of pairing each wine in their flights with their cheeses. My favourite wine was their Estate Chardonnay 2019. My favourite cheese was Frenchie, which they served with their Riesling. All their cheeses are very nice and we noticed them sold at other shops in The County, which speaks to their popularity.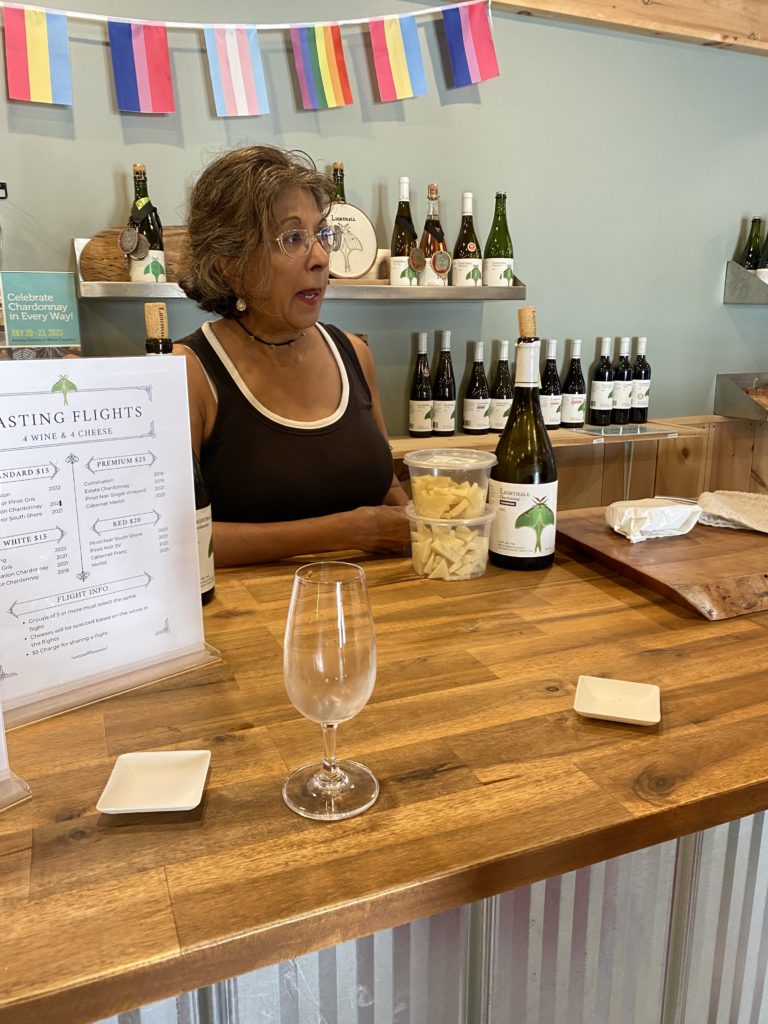 Our next stop was Exultet Estates, which is also in Milford. Exultet is unusual in that it doesn't advertise. It's open to the public, but you won't find it in the WineCountryOntario guide or even in the Prince Edward County Chamber of Commerce map. In 2004 Gerard and Lia Spinosa purchased a 200-acre former cheese factory and planted Chardonnay, Pinot Noir, Pinot Gris, and Vidal. Gerard is the winemaker and Lia leads the tastings. Their wines have have won many awards and they are focused on high end restaurants, but you can buy their wine at the winery.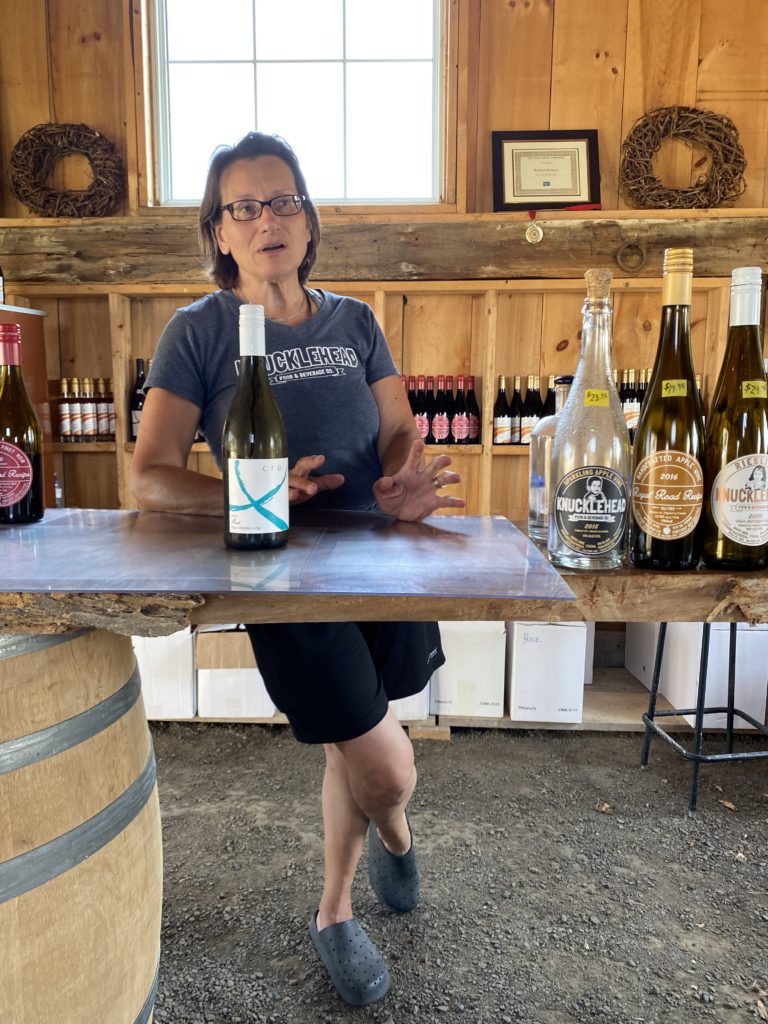 It's definitely worth finding, especially if you like Chardonnay and Pinot Noir. They offer flights that feature "a splash" of six of your choice. Lia is very knowledgeable about the different expressions of the wine that the winemaker (her husband) was focusing on for each offering and it's nice to compare different craftings of the same variety.
From Exultet we headed to County Road 8 where we came across Del-Gatto Estates. This is another winery you won't find in the WineCountryOntario guide. The three of us had all been to Del-Gatto before but not since before the pandemic – so we stopped in. When I looked at the tasting menu, I noticed the 2020 Petite Pearl. I asked what that is and the woman helping us said, "it's Petite Pearl". I was still confused, so I asked, "but what variety of grape is in it?" She explained the grape is called Petit Pearl, which is wintery hearty. She explained that they're the only winery in The County that features winter hearty varietals.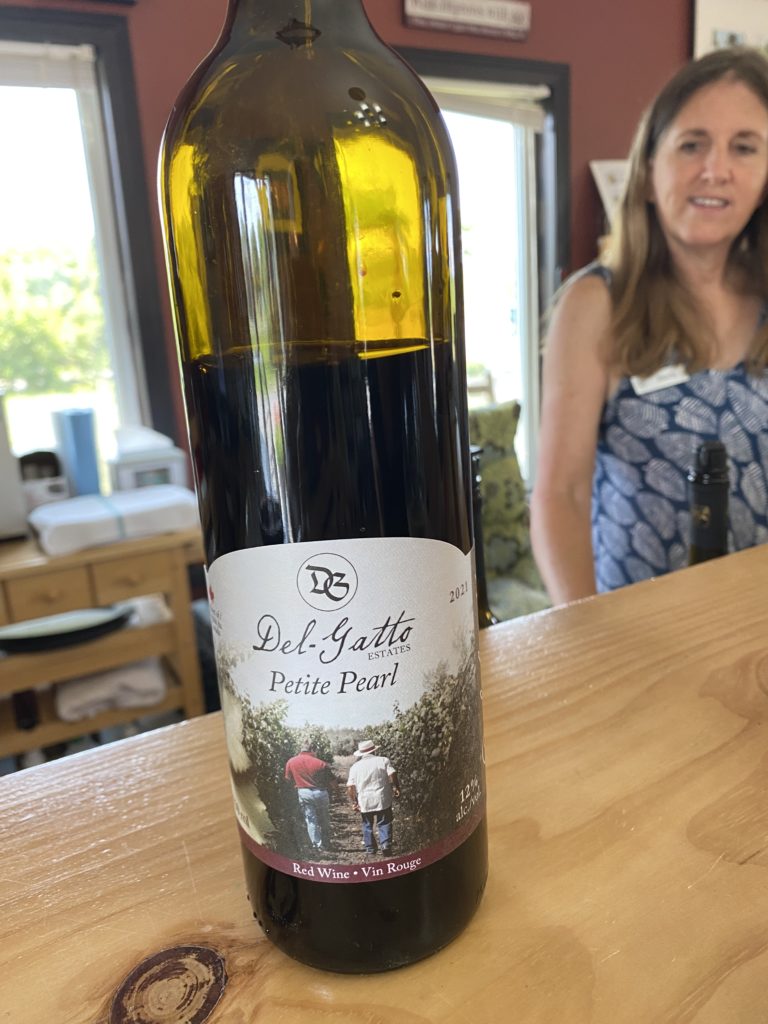 I looked at the tasting menu again and saw that a Frontenac Noir and Marquette and then I understood. I asked her if those varietals grow in places like the Upper Peninsula of Michigan and she said yes, though they source theirs from Minnesota. I know that the winemakers in The County bury the vines to guard against the cold, so it makes sense to use varieties that are particularly cold hearty. They also have some of the more traditional varietals (Pinto Grigio, Pinot Noir, Riesling, and Vidal for example). The service is friendly and it's a lovely spot to try something different.
Our next stop was Cressy Mustard on County Road 8, near Waupoos Estates Winery. I had never heard of it, but Susan is a fan and she was determined to find it. I was expecting a farm stand of some sort. I was pleasantly surprised to see that in addition to a shop that sells all sorts of Cressy Mustards and relishes, they have a bit of a café. It was truly our lucky day – they were featuring pickerel tacos and truffle fries. We shared an order of each and they were amazing. The basket of fries was HUGE and about the crispiest I've ever had – not to mention the truffle aioli and shaved parm that was on top. Go for the mustard – stay for a bite!
We ended the day stopping at Lake on the Mountain Provincial Park. As the name implies – there's a lovely lake that is located on a crest that sits about 60 metres up with views of the surrounding waters of Picton Bay. We stopped briefly and walked around the small boardwalk along the edge of the lake – but our main destination was the beautiful patio across the street at the Miller House Café. The view from the patio is spectacular! Directly below is the ferry dock for the Glenora Ferry, which is so fun to watch.
The Miller House has a lovely menu of unique light fare including "flambées" (which are elongated flatbreads with different toppings), creative platters (similar to charcuterie boards), and tartines (toasted French bread with different toppings).
I only get to The County about once a year – and every time I go, I think I should go more often. It's hilly and curvy and fun to drive around. Every curve brings a surprise – you might see a field with cows or sheep, or rows of vines, or an apple orchard, or a beach with a sailboat off in the distance! And every time I go there, I'm surprised at how many new great cafes and restaurants there are, not to mention great wineries, cideries, distilleries, and more.