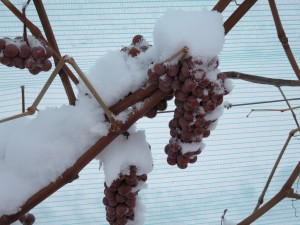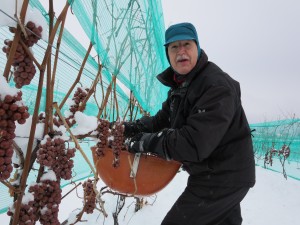 The day after I wrote about icewine picking happening in Niagara I got the Georgian Hills Vineyards' newsletter saying they'd be picking icewine grapes on Saturday morning and that they welcomed volunteers.
Having always wanted to do that, I responded to Robert Ketchin's e-mail and said that he could count me in – unless the travel conditions made it impossible. (Georgian Hills Vineyards is up beyond Collingwood – so 158 kms. (99.4 miles) one-way from here – and the forecast was foreboding.)
To make a long story short, I made it there and had a terrific time! I'll write a bit more about the experience later – including more about the fact that it was too cold to press (it was -17.7° C, which is 0° F). But, it was so much fun that I simply had to share some photos photos of the 20-or-so hearty souls that made it out to the vineyard for the fun.