Terroir is a Prince Edward County (PEC) event in the charming Crystal Palace in Picton. A friend and I attended last year and had a terrific time. Most of the PEC wineries are there, as are some local restaurants and food purveyors, and it's a great way to kick off the summer.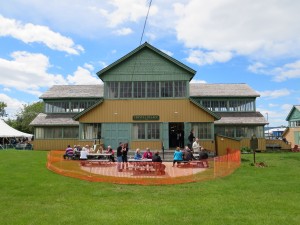 It's normally on the Saturday after Victoria Day, which means the County's lilacs are in full bloom and riding around the County is even lovelier than usual. Since Terroir is on the Saturday, if you go to the County for the weekend, you have all of Sunday to stop in at wineries before heading home.
Well, this year it seems they've moved the event up to the beginning of May – Saturday the 3rd, to be exact. This change came to my attention last week when I was updating the app and I noticed that Keint-he Winery & Vineyards mentioned on their website that they'll be at Terroir on May 3rd. When I read that, I honestly thought the date was a mistake, so I checked Terroir's official website and saw that it wasn't a typo. I don't mind saying that I'm kind of bummed out because I won't be able to attend on May 3rd.
When I saw Bryan Rogers of Keint-He at the OWS 5 Star event last week I asked him about it and he said that the Terroir organizers (and apparently he's one of them) moved Terroir up because they want a bit of time between Terroir and the County's well known Great Canadian Cheese Festival, which is always the first weekend in June. Rogers also noted that they'll see how it goes this year, and they may move the data again – until they figure out what works best.
Anyway – the date for 2014 is set – and it's right around the corner (Saturday, May 3, 2014 from noon to 5 p.m.) – so start making your plans. Tickets are the same price as last year: $35 in advance and $40 at the door (if still available). I'm sure it'll be a terrific event – and I guess those who are lucky enough to attend will just kick off their summer a bit early – nothing wrong with that!