One of my sisters has an expression she sometimes uses when she's describing a meal that she's particularly enjoyed – she often refers to what she calls "perfect taste combinations". Now, lest you think my sister is some professionally trained chef who is waxing poetic about rarified ingredients that are cooked and served just so – she's not. She's a down-to-earth, normal person who just enjoys food and sometimes is moved to try to describe the meal. One of her perfect taste combinations is beer and pizza. (See what I mean?)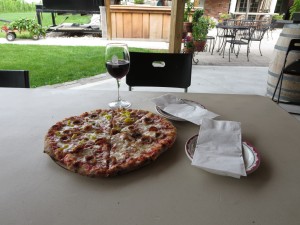 Well, in my travels to different Ontario wineries, it's hard not to notice that lots of wineries have found that wine and pizza is – for many – a perfect taste combination. I first noticed the popularity of wood-fired pizza ovens on winery patios across Prince Edward County last year. (Norman Hardie Winery and Vineyard, Hillier Creek Estates and TerraCello Winery, for example).
My recent trip to the Lake Erie/Pelee Island region confirmed the trend. I enjoyed a delicious pizza and a lovely glass of Cab Franc at Muscedere Vineyards. Melissa Muscedere made me laugh when she talked about how popular their pizzas are. "We have people phoning and asking, 'Is the pizza store open?' That really annoys my brothers," she said, "but I tell them not to worry about it – if it brings people here and then they discover our wine, that's great!"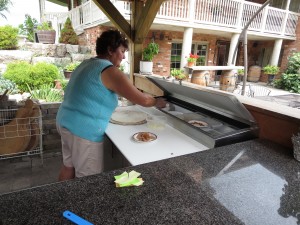 Paglione Estate Winery started serving pizzas on weekends this summer and Nancy Paglione said it's been a big hit. "As soon as we put out the sign, people started stopping," she said.
Though many wineries are starting to cut back their weekday hours a bit as we head into the fall, I'm sure many will still be firing up the pizza ovens on weekends. So, what'll it be? An Ontario red or a crisp Ontario white to go with your pizza?