When I started work on the App I was struck by how often the name Andrzej Lipinski came up. When the App was first published in 2012, he was the winemaker at Cornerstone Estate Winery, Burning Kiln Winery, The Organized Crime Winery, and Colanari Estate Winery, not to mention having left his fingerprints on winemakeing at  The Foreign Affair Winery.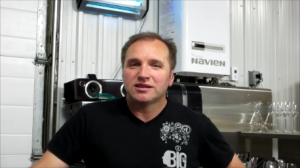 Lipinski, who trained as an auto mechanic, emigrated from Poland in 1989. His winemaking journey began in the fields picking grapes and by 2002 he had honed his skills and went on to become the winemaker at Legends Estates Winery and then Megalomaniac. He then moved on to the other wineries I mentioned earlier. In 2012 he started Big Head Wines – a virtual winery.
People really started to take notice of his talent when he was working with Len and Marisa Crispino of The Foreign Affair Winery. While there he produced an appassimento style wine by drying grapes indoors at Vineland Centre. When he moved on to Burning Kiln, which is in the heart of Ontario's ailing tobacco growing region, he began re-purposing tobacco kilns because, as he says, they're perfect for drying grapes.
He has continued using the technique and all of his Big Head reds are made using dried grapes. Having devised a reliable method for drying grapes, these days he's focusing more of his attention on natural yeasts and blending.
Over the years I've had various wines Lipinski's made at different wineries and they have all been very good. But, his Big Head wines are a cut above what he's produced elsewhere. Friends and I recently enjoyed a formal tasting of a range of whites and reds at Big Head and, while we each had our own favourites (mine were his 2012 Pinot Noir and 2012 Chenin Blanc), we all were impressed with his innovation, daring, and talent.
Here's a video of Lipinski describing his winemaking journey from appassimento style, to experimenting with natural yeast, to his thoughts on blending.