Over the past 18 months, I had heard rumours about a new winery in Mono – a "non-traditional" area for a winery. Among the news tidbits about the winery, I remembered reading that Jonas Newman of Hinterland Winery in Prince Edward County was somehow involved. Earlier this summer I found out it's called Adamo Estate Winery and so I contacted them to see if they were open to the public. They said they'd be opening in September.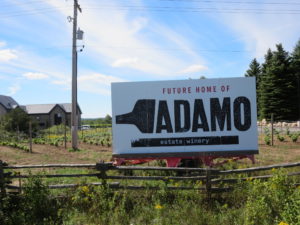 So, last Friday was a beautiful day for a drive in the country and a friend was game to head to Mono. Before we left, I phoned the number on the winery's website to find out if they were open. I was surprised when they answered as "Hockley Valley Resort". That was unexpected – I had no idea there was a connection between Hockley Valley Resort (a ski/golf destination) and the winery.
Mono is about an hour north of Toronto, near Orangeville, and we were there in about an hour. The winery is on 3rd Line, just up the road from the resort. I was quite surprised by the huge, attractive structure that houses the winery. Because it's so new, I was expecting something more on a start-up scale.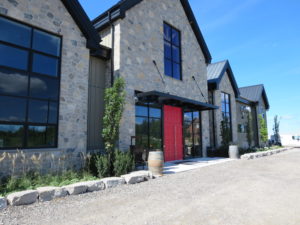 We headed through the welcoming red doors and were wowed by the gorgeous high-ceilinged tasting room and bar area. We were immediately welcomed by JP Adamo, one of the owners of the winery.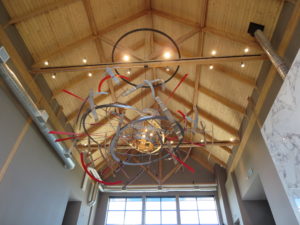 JP was happy to tell us about the winery. They have 20 acres under vine and are increasing that in the near future. They primarily grow Pinot Noir and Chardonnay, but they also have some Riesling, Vidal, Merlot, Gamay, and Chardonnay Musque. When I said I was surprised that they aren't focused on hybrids that are less susceptible to cold (they're next to a ski resort, for heaven sake!), much less that they are growing Merlot, he explained that – like the wineries in Prince Edward County – they bury the vines. (One of the things they turned to Jonas for experience about, no doubt!)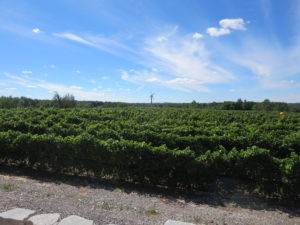 I had hoped to meet their winemaker, Shauna White, but she was not at the winery that day – she was down in Niagara overlooking the harvest of some grapes that they get from other vineyards. They plan on producing small batches of estate wines, which means consumers have the opportunity to judge for themselves the impact of the different terroir.
Though it's always tempting to taste a variety of different wines – especially at a winery you've never been to – we opted for a Chardonnay flight and a tasting of two Pinot Noirs. All the wines were very good. Of the Chardonnay, I especially liked the 2011 Sogno (which apparently means dream in Italian) un-oaked Chardonnay.
Both 2014 Pinots were quite nice, though we both had a mild preference for the Lowrey (from the St. David's Bench area of Niagara-on-the-Lake) over the Parke (from the 20 Mile Bench area). Indeed, if you've ever had any of the Wes Lowrey's Five Rows Craft Wines, the similarities are amazing.
Adamo Estate Winery is a terrific addition to the Ontario wine scene. If you're the type who likes to drive through rolling hills – maybe to take in the fall colours – it's a great destination. It's off to a spectacular start and it's definitely a place to enjoy now – and likely long into the future.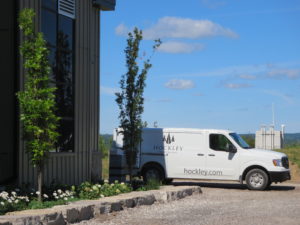 JP Adamo was kind enough to let us shoot a short video of him describing the winery. You can find the video here.