As a friend mentioned the other day, November is kind of a buffer month – it's a time to re-charge before the busy holiday season and, for many of us, time to start to think about what we might serve – both in terms of food and wine – at our holiday get togethers.
With all this in mind, the Wineries of Niagara-on-the-Lake have a holiday tradition called "Taste the Season" – it's one of their popular passport programs and it runs every weekend (Fridays through Sundays) in November.
I was given two passes to the event by the tourism folks and a girlfriend and I spent Sunday popping in to different wineries to sample their food/wine pairings. It was a dreary day, which might be why most of the places we stopped in at were not overly busy. Mind you, that was great as far as we were concerned because it meant more of an opportunity to speak with the folks at the wineries about the recent harvest, and about the wines and food.
The choice of which wineries we visited was based strictly on our route. We started at Niagara College Teaching Winery, which is right off the QEW. I hate to say it, but I was very disappointed with the pairing there. They were serving their 2011 Dean's List Pinot Noir ($17.15) with a grilled zucchini, tomato, and Havarti tart. It sounded so promising, but was a total disappointment because the tart was stone cold. It's true, it was early, so they had just opened, but no wine would taste good with the fat of the cold pastry dough. Too bad…
Fortunately, the day improved quickly at our next stop – Chȃteau des Charmes. They too were serving a Pinot Noir (their 2015 Estate Grown & Bottle Pinot) ($16.95). They paired it with a delicious smoked chili spiced meat ball served in a lovely little bamboo cup with some tomato fondue and parmesan cheese. (The food was catered by Vintage Inns.)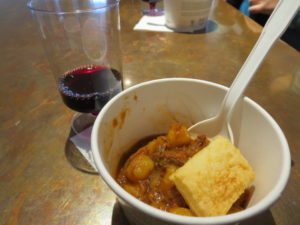 Our next stop was Ravine Vineyard Estate Winery – always one of my favourite spots. The served their 2014 Sand & Gravel Redcoat ($18.95) paired with a beef stew with a parmesan pastry. I was surprised when they served the wine in a plastic throw-away glass, but I figured it's because of the numbers of people that come through for the tasting. The server – clearly concerned about the presentation – gave us a card offering a complimentary tasting flight at the tasting bar where, he assured us, "they use proper glassware". We promptly went over to the other room and one of the wines I chose to (re)sample was the Sand & Gravel Redcoat. I'm glad I did – though I enjoyed it well enough in the plastic cup, in a real glass is was quite nice. In fact, that's the wine I ended up purchasing.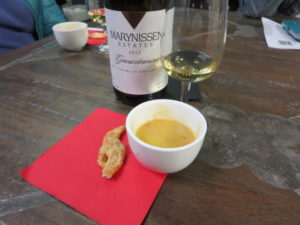 Another stop we made was Marynissen Estate Winery. They were serving a 2015 Gewürztraminer ($16.00) with a warm corn and red pepper bisque. The server made a point to tell everyone that it wasn't a particularly sweet Gewürzt – I guess many folks are put off Gewürzt because they associate it with sweetness. I didn't care much for the wine – I actually found it a bit too dry for – but the soup was delicious. Indeed, when we were re-capping the day, my friend and I agreed that the soup was our favourite of all the food samples.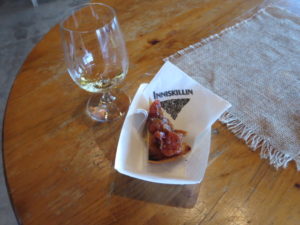 Inniskillin Wines gets kudos for an innovative pairing: their 2015 Vidal Icewine ($29.95) paired with aged cheddar grilled cheese with a garden tomato chutney on top. I think it's a terrific idea to show people that icewine isn't just for dessert. They also get high marks for a very simple, but effective presentation. Though the server didn't know we'd be taking a photo – he made sure that the name of the winery was visible on the napkin. (Nicely done!)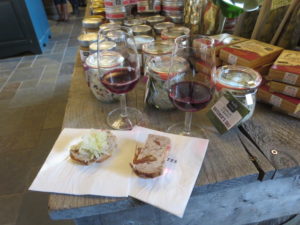 Our last stop was  Peller Estates. They were serving their 2016 Private Reserve Gamay Noir ($19.95) with a smoked pork and duck terrine. That pairing a true standout. The wine on its own was light and refreshing (as you'd expect from a Gamay) and it balanced the richness of the terrine quite well. (It was my friend's favourite wine of the day, by the way) Also, there was a young chef (I'd guess a chef-in-training) serving the terrine and he happily answered my questions about the difference between terrines and pates. It's opportunities to speak with folks from the wineries that are familiar with food and wine that make these events really enjoyable.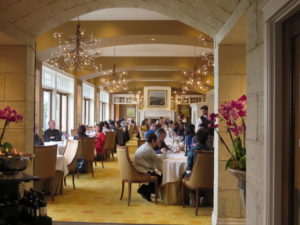 We ended the day with a long, late, relaxing lunch as the Restaurant at Peller Estates, which was lovely.
If all goes according to plan, I will be headed down to Niagara-on-the-Lake next weekend with another girlfriend to see what some of the other wineries are up to.  Stay tuned – or better yet – head out with some friends and enjoy Taste the Season yourself.