To some, February is the last hospitable month in Ontario. (I say "to some" because, well, it's actually one of my favourite months!) But, the Wineries of Niagara-on-the-Lake have the perfect antidote to those who think the only good thing about February is that it's only 28 days long – The Days of Wine & Chocolate. The Passport program runs every weekend (Friday-Sunday) in February. As the name implies, the 20 participating wineries have paired one of their wines with something that has chocolate as an ingredient.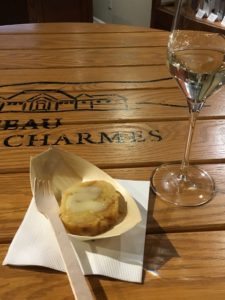 The Wineries of Niagara-on-the-Lake invited me to attend and so a girlfriend and I hit the road yesterday, despite the snowy forecast. It so happened that I took this friend last year, so I tried to find some places she had not been to. On our drive down, I mentioned that I had been thinking about the route we might take to make it a bit different from last year. She didn't seem to care – she was just excited to be spending a day in wine country. That's the right attitude for sure!
The day ended up being so fun and relaxing. The wineries were quieter than they might otherwise be for such an event – but that meant that we had more opportunities to chat with winery folks, which is one of best things about visiting Ontario wineries. You can learn so much and most folks you come across are only too happy to chat.
One of our favourite encounters of the day was at Inniskillin Wines. That was one of our early stops and our timing was great – apparently a large crowd had just come and gone.  Mamiko – the woman pouring – was an absolute delight. They were featuring their 2014 Reserve merlot with a dark chocolate chili with white chocolate sour cream and green onions. She explained why she thought their chili was so much better than what she makes at home – "the chef here uses lots of wine when he cooks – at home I don't use as much, but it makes it much better!"
We both really enjoyed the pairing – and the white chocolate in the sour cream was absolutely delicious.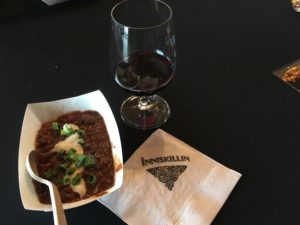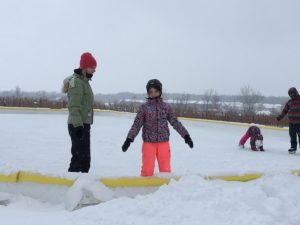 My friend had never been to Ravine Vineyard Estate Winery, so that was on my list of places to stop. It's a lovely spot. Though it's quite large, it feels secluded and cozy. Though I've been there many times, it seems every time I go there, there's something unexpected. (Last time it was the beautiful free-range hens and rooster roaming through the fines.) This time it was an ice skating rink nestled in a spot between the restaurant and the vineyard. A staff member was out on the ice with a snow blower, with a family waiting to hit the ice. It turns out the rink is open to the public – free of charge – and the gang that was there were locals who have been there before. (One of moms there explained that one of the kids on the ice had learned to skate there.)  It's a home-made rink – so if it's cold enough for ice, it's open. What fun!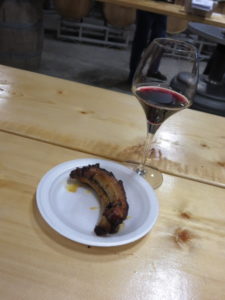 When we looked at the list of pairings, I mentioned to my friend that I was surprised to see that PondView Estate Winery was serving pork back ribs, as they served that last year, though this year they are serving it with one of my favourite Pondview wines: their Bella Terra Reserve Cab Sauv. My girlfriend had the right outlook – she said, "Well, if there's something you're good at – and the ribs are awesome – why not stick to it!" How right she is – so off we went.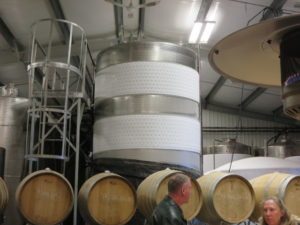 Another fun thing about this kind of passport program is that they often host the pairing in different locations in the winery that you might not normally get a chance to see on a regular visit. PondView, for example has set up the tasting in their fermentation room. I've been in there before, but this was the first time I saw what looked like ice frozen on the outside of some of the stainless tanks. Naturally, I asked about that. Apparently, the ice crystals are on tanks where they are doing cold fermenting. (Something I'll have to ask about next time I'm chatting with a winemaker!)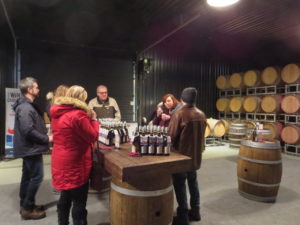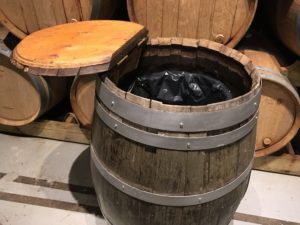 At Reif Estate Winery we got into another back room that I'd never been in before. A big, but cozy space, thanks to the barrel-lined black walls. Very different… (and check out the clever re-purposed barrel).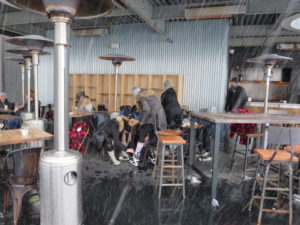 Another place we made a point of stopping at was Wayne Gretzky Estates Winery & Distillery. We wanted to check out Wayne's ice rink – I mean, really… It was a popular spot, as you'd expect. The crowd was definitely more millennial than boomer (my demographic) – so it has a different vibe – very fun and VERY popular. The winery has a separate building where the spirits are. Neither of us are into whisky, but cream whisky is… well, dessert, which we are into. We had to try it. It is quite nice – think Bailey's Irish Cream, with (to me) a hint of cocoa.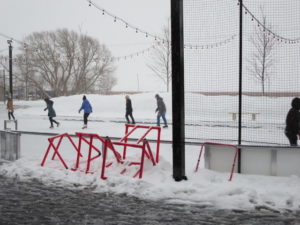 Another surprise was that there were a few families with kids. I thought that was unusual, but the little ones were happy – and the wineries all serve non-alcoholic drinks for those with a designated driver passport. In watching the children, it's clear that they enjoyed trying different things as much as their parents did.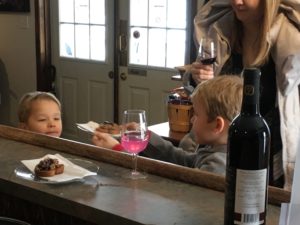 We ended our day back at the restaurant at Ravine. We didn't have a reservation, but they had room for us and, to our delightful surprise, the were running a prix fixe special that was unbelievable: any appetizer, main and dessert from the regular menu for $35. What a treat! I had smoked arctic char, braised short rib of beef (normally $36 alone), and sticky toffee pudding. My friend had the mushrooms on toast, pork loin, and a chocolate tart. The food was spectacular and the service was exceptional. If you've not been to the restaurant at Ravine, I can't recommend it enough.
On the way home we were talking about the day. In terms of favourites, we especially enjoyed the savory food (Inniskillin, Pondview, and Jackson-Triggs). My favourite pairing was Jackson-Triggs' 2016 Grand Reserve Pinot Noir and the smoked chicken and chocolate cheddar panini with mushrooms and preserved cherries. My favourite wine was the 2013 Stratus 'Weather Report' Red.
There are still two more weekends to enjoy the Days of Wine & Chocolate and you can order your Passports ($45+ tax or $25 for designated drivers) online. I hope you have the opportunity to check it out.