Keeping up with what's new in the Niagara-on-the-Lake and Niagara Escarpment regions each year usually means checking out new wineries. Keeping up with what's new in the Erie, Pelee Island, Coast (EPIC) wine region means visiting old favourites that are kicking it up a notch and becoming destination wineries.
I've just returned from the region and here's a taste (no pun intended) of what I'm talking about…
North 42 Degrees Estate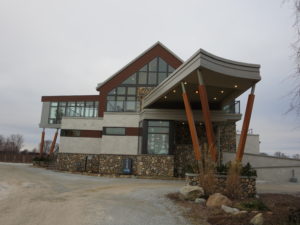 My first stop last weekend was to North 42 Degrees Estate Winery. A couple years ago they had posted artists' drawings of the restaurant they were planning. It looked impressive from the drawings, but it also looked like it might take awhile to build. Then, at some point last year I thought I read an announcement that they had opened the restaurant.
So, in planning my trip, I went on their website to find out a bit about the restaurant – things like the menu and the hours. Their website made no mention of the restaurant, so I figured it wasn't yet open. Just to be sure, however, I also checked their Facebook page. On it there was reference to various special events at Bistro 42, but nothing indicating they had regular hours of service. Curious to see what was going on, I planned to stop there.
To my terrific surprise, at the far end of the driveway I saw the new building. It looks as though it organically sprung forth from the ground. In the front there's a trio of huge beams reaching up at odd angles to support a massive front portico. Similar beams support a glass room off to one side. The main part of the building looks like a two+ story glass cathedral.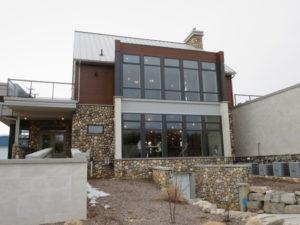 From the inside, the feel is more intimate than you'd expect. The main floor features the tasting room and a room that houses Serenity Lavender, which is owned by the same couple who own the winery. When I visited the winery, the door to the lavender store was wide open and – though I love the smell of lavender – I wondered how folks at the tasting bar might find the clash of smells.
Though I couldn't stay for a meal that day, the host graciously encouraged me to check out the main dining room upstairs and I'm glad I did. The view over the vineyard was lovely – even in the dead of winter. I can imagine it is spectacular in summer and fall.
Their menu features small and shareable plates, as well as a nice selection of salads and mains. As it was just after Valentine's Day, they also had a special menu that weekend. From the crowds, it looks like it's quite a popular spot. Now that I know it's open, next time I'm headed to the region, I'll make a reservation at Bistro 42 – I can't wait to try it.
Oxley Estate Winery
The restaurant at Oxley Estate Winery keeps landing on different "best" lists. I think it's been on Open Table's list of best winery restaurants and most recently their list of "most romantic" restaurants. I'm really not surprised that it's on so many "best of" lists. The atmosphere is casual (the restaurant was, after all, a barn at one point) but elegant and the service is friendly and knowledgeable. All those things are notable, but the food is really the main event here. Chef Aaron Lynn has been at Oxley for about five years. Over that time, he has created all sorts of dishes and he has really grown. His regular, seasonal menu is always interesting, but the special dinner menus really showcase his talent.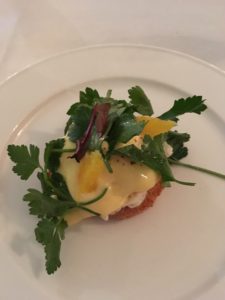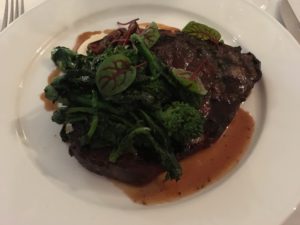 I was lucky enough to enjoy dinner there last weekend when they were featuring a Valentine's Day menu. The Crab Toast appetizer was nothing short of divine. Huge chunks of crab with a luscious hollandaise atop a perfectly toasted brioche. Because rib eye is my all-time favourite cut, I couldn't resist the bison ribeye. When I ordered it medium well, the server gently mentioned that the chef recommends rare or medium, as bison is so lean. I took the advice and I'm glad I did. It was perfect.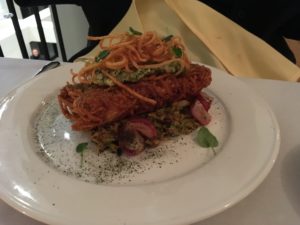 My dinner companion was equally happy with her choices of a Wild Mushroom Pastie as her appetizer and Potato Wrapped Halibut for her main.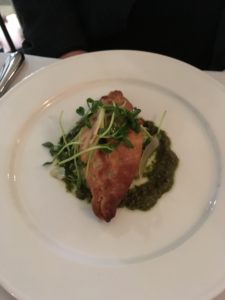 Next time you're headed to the region, make a reservation there. Trust me, you'll be sorry if you can't get in …
Other Notable EPIC destinations
CREW – Colchester Ridge Estate Winery – is right next door to North 42 Degrees Estate Winery. A huge new building is going up at CREW. Currently, their small tasting room is at the far end of their driveway in a non-descript building. The new building is far along, but wasn't quite finished, so I didn't snoop around. But, given its size and location in the front of the property, it wouldn't surprise me if they too are planning a restaurant or some other food-serving facility.
As for new things happening at another winery I always enjoy – Cooper's Hawk Vineyards – they are now making cider. (Cider is hard to come by in the region – it's not taken off there like it has elsewhere in the Province.) Their Iler Road Cider, which is no doubt named after the street the winery is on. is made from 100% Essex County Apples. So now, in addition to their wines and The Vines restaurant, there's yet another reason to visit Cooper's Hawk Vineyards.