This afternoon Henry of Pelham hosted a pre-release of six wines, including its 2021 BIN 106 'Lost Boys" Baco Noir. This is a limited edition wine that is well worth heading to the winery to snag before it runs out. It's from some of the oldest vines in the region (planted in 1984) and it is luscious. I've always thought of Baco as being one of Henry of Pelham's outstanding offerings and so I was looking forward to trying it – but this exceeded my expectations!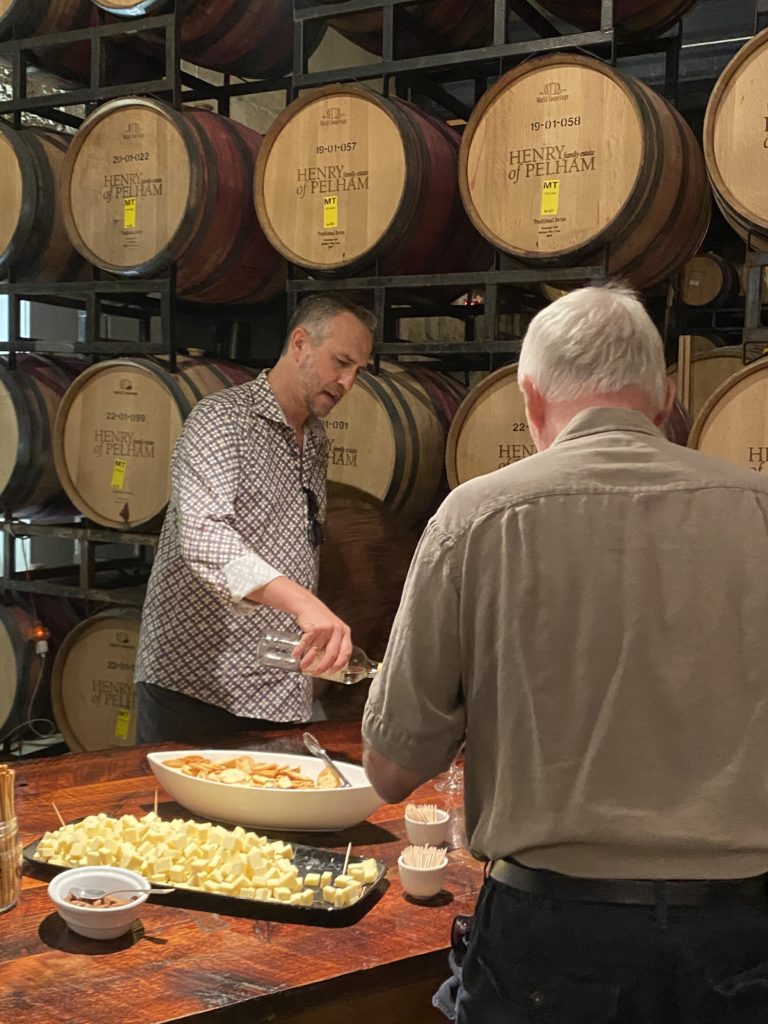 I was talking to Lawrence Behler, the winemaker, about how much I enjoy Henry or Pelham's Bacos and he said the winery has always treated Baco with a great deal of respect. I think he hit the nail on the head and I think that is particularly evident in the 2021 BIN 106.
On our way to the winery, I confessed to my friend that I didn't know who the winemaker was. So naturally, that was the first question I asked Daniel Speck, one of the brothers who own the winery. I was so pleased to learn that it was Lawrence, who I first met at an ice wine weekend when he was the winemaker at Peller Estates in 2008. After that he headed to Colio in the Lake Erie North Shore region (Harrow) and then I knew he went out west for a time. After that I lost track of him – but he's back in the Niagara, which is great news.
The other standout for me at the tasting was their 2021 The Shadow Rock Sauvignon Blanc. Daniel Speck was pouring it and he explained that this particular parcel is near a pond. In the late afternoon it gets partially blocked and the slight coolness from the shadow helps the fruit develop different from other parts of the vineyard. Apparently, it's also interesting because being near the pond the darkness brings out the night insects and frogs and it gets pretty lively in that patch. One other important note about the wine that makes it different from other Sauvignon Blanc is that it is lightly oaked, which makes it – yes, a Fumé Sauvignon Blanc. I asked Daniel why they decided to de-stress the "fumé" and he explained that they did so because some people think they don't like oaked whites and so sometimes they won't even try it. Go figure…
I've always enjoyed a nice Fumé Blanc – and The Shadow Rock is delicious. It has the grapefruit and pear you expect from a Sauvignon Blanc but the bit of oak gives it a round, fuller mouth feel. Next time you're at Henry of Pelham be sure to try it – it might surprise you. Indeed, among today's crowd, it clearly was a big hit – by the time we got to the retail shop to buy some, they had run short of it. They will have it re-stocked tomorrow morning, so we ordered it. I look forward to serving it to some friends this summer. I won't tell them it's an oaked Sauvignon Blanc until after they've tried it. I'll be they will enjoy it and will be more open to trying a fumé blanc in the future.
The other wines introduced at the tasting were: the 2021 Dry River Riesling, the 2020 Smith & Smith Gamay, the 2020 Cabernet-Merlot Speck Family Reserve, and the 2020 Pinot Noir Speck Family Reserve.
A side trip to Jordan Village
On our way to Henry of Pelham we were a bit hungry so we decided to stop at Jordan Village to see if we could grab a bite. The GPS had us turning from Nineteenth Street onto Wismer Street and then to Main Street in Jordan Village. Well – that was a no go, as Main Street in Jordan Village is completely closed for construction. Fortunately, if you stay on Nineteenth Street (rather than turning onto Wismer St.) the Jordan Village parking area is open and you park and walk through the Village around the construction (which is supposed to be completed this summer, so we were told).
We knew there was a coffee shop in the Village but we didn't know the name. Well, it turns out is now the RPM Bakehouse and it's run by the folks who run the restaurant at Pearl Morissette winery. They had a lovely light menu featuring interesting sandwiches on their house made breads, as well as some coffee shop type sweets. There was indoor and outdoor seating and so we had a light lunch outside (in mid-April!). The Bakehouse was an excellent find – a very nice choice when you're in the mood for more than just a muffin and coffee but not quite a full-service meal. It's definitely a place to remember and return to.