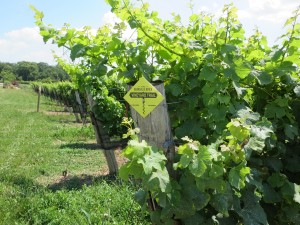 Yesterday — one of the hottest days of the summer — a friend and I set out to walk the new Beamsville Bench Vineyard Trail. The trail, which was funded by the Friends of the Greenbelt Foundation and the Beamsville Bench Winery Association, opened June 1, 2013. The trail has two distinct segments that join six Beamsville wineries. The "Lower Loop" is a very easy walk that joins Rosewood Estates Winery & Meadery, Angels Gate Winery, and Thirty Bench Wine Makers. The trail is very well marked and this particular loop takes you directly through the rows of vines. It's a terrific way of getting a close-up look at the trellising systems, the vines and, of course, the grapes.
You can leave your car at any of the wineries and you can also pick up a trail map at all of them. We started at Rosewood and when we set out we looked at our watch to see how long it might take to hike the loop. Of course, as soon as we got to Thirty Bench we popped in — to cool off — and to try some of their newly released Riesling and Rose — and to shop a bit.
After that, we headed back out to the trail and forgot to look at our watch. But, the Lower Loop is a pretty walk and really, the point of the trail isn't so much about hiking, it's about stopping in at the different wineries for tasting, buying, and enjoying!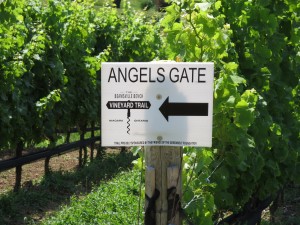 Because it was so hot, we decided we'd leave the Upper Loop (which includes Hidden Bench Vineyards & Winery, The Organized Crime Winery, and Fielding Estates Winery) to another day. (I'm thinking it'd be especially lovely in the fall…)
In addition to the two "loops" of the trail, there are also two side portions — the Angels' Walk Side Trail and the Bruce Trail Side Trail, which we'll no-doubt check out too.