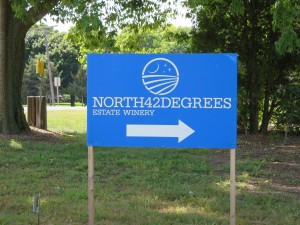 When I dropped in at North 40 Degrees Estate Winery last fall owner/winemaker Martin Gorski was measuring the sugar content of some of his grapes using a Brix Refractometer. I had always wanted to see how you use one, and he showed me. Very cool, I thought.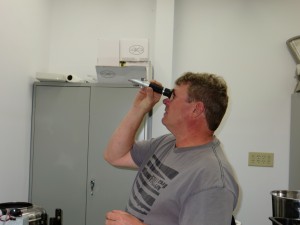 Well, last week I was leafing through one of the new Lee Valley catalogs when a "Sugar Tester" caught my eye. Sure enough – it's a Brix Refractometer! Though I do find the topic of Brix quite fascinating – since I don't grow grapes, I can't imagine what use I would have for one. (I'm sure I fall within Lee Valley's demographic – why else is there one on the trendy King West strip in Toronto!)
Anyway – based on the description, the Brix Refractometer "… can be used to judge when fruits and vegetables are at their peak for harvesting. … Very useful…" Damn, I thought maybe I could use it to test for the ripeness of the melon or pineapple I've got in my fruit bowl.
That said, it does look cool – and if you can't have a vineyard – for $59.00 you can at least have some of the gadgets…