As I noted recently, last Saturday a girlfriend and I were taking in Sip & Sizzle and one of our stops was Reif Estate Winery. The winery was hopping but the tasting room/retail area was large enough to handle the crowd, and they had plenty of knowledgeable staff on hand.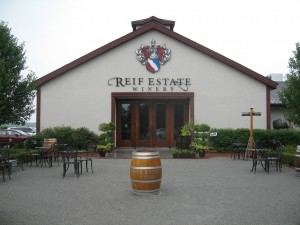 To round out our day, we had booked a formal tasting with Archie Hood, one of Reif's sommeliers. I've had the pleasure of being guided by Archie on a tasting at Reif before and I thought my friend would enjoy it. Reif has a few different tastings to choose from and the one we were doing was Taste the Terroir.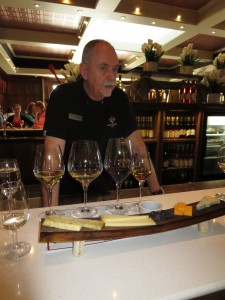 The formal tastings are set up on the back side of the tasting bar, which is nice because you have a bit of privacy to chat with Archie, but at the same time you have the relaxed buzz of people enjoying the winery. Archie started by explaining that we'd be sampling four wines paired with four different Ontario artisanal cheeses. The wines – the 2010 White Meritage (paired with Mountainoak Wild Nettle Gouda), the 2011 Chardonnay Reserve (paired with Gun's Hill Farms' Five Brothers, which is kind of a gouda/Swiss blend), the 2010 Merlot Reserve (paired with Thornloe Cheddar), and the 2012 Vidal Icewine (paired with Glengarry Celtic Blue Reserve) – were chosen because they're representative of the terroir on which Reif's grapes grow.
Archie gave us very specific instructions about the process he wanted us to follow in terms of tasting the wines and then the cheese – I'm not talking about the usual directions about holding up the glass and looking at the colour, then swirling it to open the bouquet, then smelling the nose, and so on. First we were to take a sip of the wine. Then we were to take a nibble of the cheese, chewing it for about 10 seconds. We were to then leave the cheese on the roof of our mouth and then take another sip of the wine, noting how the taste of both had transformed.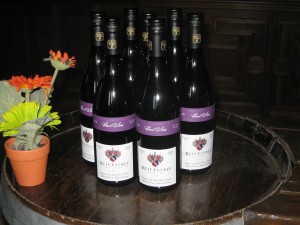 I don't mind telling you I found the process a bit challenging and it took me a few tries before I got the hang of it. (My friend either fared batter, or was too embarrassed to admit finding it tricky.) As we proceeded through the flight, Archie explained different things about the wines, the cheeses and the science of what was going on with our taste buds and about why we were noticing different things. He was also more than willing to answer all matter of questions. For example, I asked about the selection of glassware, especially the fact that the Chardonnay was in a balloon glass.
The most delightful part of the tasting was the Ah-Ha moments each of us experienced. My personal Ah-Ha came when I had a mouth full of wine and cheese and I was clearly trying hard to notice the taste differences and Archie pointed to my mouth and encouraged me to swish the wine around. (I had kind of just been holding it in my mouth.) I did as he said and – oh man – what a difference! After swallowing I commented on it and Archie knowingly nodded. I knew immediately that this new "technique" (however simple it is) is something that would change my way of enjoying wine. Talk about a terrific learning experience!!
My girlfriend's Ah-Ha moment came when she tasted Reif's Magician, which Archie served us after learning that my friend and her family normally drink reds. The Magician is a Pinot Noir-Shiraz blend (60/40) with 30% of the grapes kiln dried. The way my friends face lit up on trying the Magician was nothing short of (pardon the pun) magic. When I saw her reaction, I had to spill the beans to Archie: I knew my friend liked reds but that she had a bias against Ontario reds. When she announced she'd be buying some to take home to her family, I knew that she was going to have to re-think her moratorium on Ontario reds. Talk about gratifying…
When we finished, I thanked – Archie for turning what could have been a very straightforward wine and cheese tasting into a memorable experience that I'm sure both of us will remember for a long time.
P.S. Don't Forget: Sip & Sizzle continues this weekend and the last weekend of May!