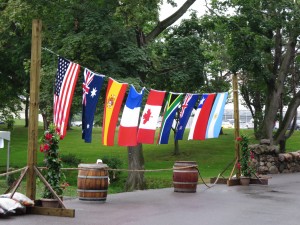 These photos from the i4C Chardonnay World Tour Tasting and Dinner are proof that the only thing the rain dampened on Saturday was the plan for pre-dinner sipping among the Rhododendron Garden at Vineland Research & Innovation Centre.
With one eye on the weather radar, the resourceful and resilient organizers quickly moved the tasting under the dinner tent. Though the tent was crowded because it was set for dinner, the guests and winemakers didn't seem to mind. And, by 7 the rain let up and the crowd moved from under the dining tent to the Oyster and Sparkling Wine Reception on the patio.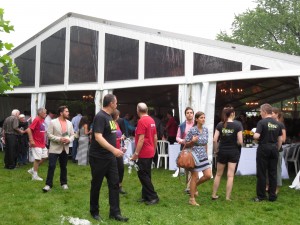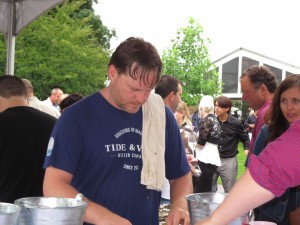 Mike Langley, the Canadian oyster shucking champion, and his crew from Tide and Vine Oyster Co., shucked hundreds of French Kiss oysters from New Brunswick and Beach Angels from B.C. (If you've never tried Beach Angels, make a point of seeking them out – they are spectacular.) Guests mixed and mingled their way between the oyster bar and the tent where a variety of Chard-based (of course) sparkling wines were being poured.
One of the most interesting sparkling wines on hand was from Thelema, a South African winery. I had spoken with Thomas Webb of Thelema at the School of Cool tasting the day before, so I was interested in trying the Thelema Mountain Blanc de Blanc 1994. As soon as I tried it I realized there was something different about it. When I said this to Thomas, he confirmed that there is indeed something different about it: the wine spent 17 years on the lees (from 1994 to 2001 when it was bottled)! The classic method (Méthode Cap Classique, as they say in South Africa) wine is rarely available – not even in South Africa, according to Thomas – but the LCBO has brought in a limited supply (Product #378653).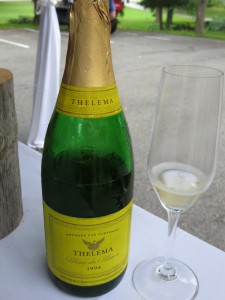 After the oyster/sparkling interlude guests went back to the dinner tent to enjoy a family style Al Fresco Feast. Winemakers and sommeliers (the Ambassadors of Cool) circulated, serving wines and chatting about them as guests passed around the six dishes created by well-known local chefs.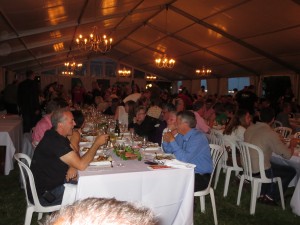 When dinner finished, guests and winemakers mixed and mingled on the patio – enjoying the live band and a last drink or two. (And, figuring that people might have been Chardonnayed-out, they were serving up some reds and even some local craft beer!)
All-in-all a fantastic celebration – not just the evening — the whole i4C weekend!