On a recent trip to the Lake Erie/Pelee Island region to visit wineries, Ann Wilson, owner of Oxley Estate Winery suggested I stop in at Lakeside Packing Company — she thought that being a foodie, I'd be interested in their business — and their story. Boy was she right!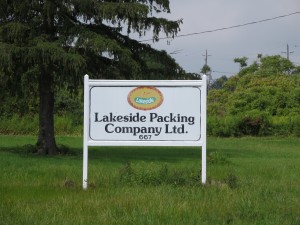 Lakeside Packing Company is  just a few doors down from Oxley Estate Winery  on County Road 50. Ann's interest in them started when Oxley, which happens to have a large asparagus patch, was looking for a way of packaging their pickled white asparagus. Turns out, she didn't have to go far for her solution: Lakeside Packing.
Lakeside Packing is third generation family business that's been around since 1942. Founder Charles Woodbridge started the packing business when he was looking for a way of preserving vegetables (in part to use up surplus crops) so that consumers could enjoy them year around. Using old family recipes, he started pickling different produce (pickles, mainly). He started with the traditional methods (wooden barrels and salt brine) but he experimented with other methods and developed innovations that increased the quality.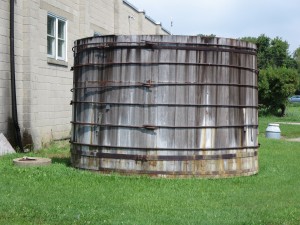 They supplied many large food retailers with product, producing products under those retailers' labels, but they also co-packed for other processers. Beginning in 1948 they started offering products under their own Lakeside label and they haven't looked back since. They still co-pack for other processers and they do some private label packing too – but the bulk of their revenue is from Lakeside brands.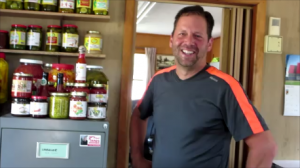 The company is in the hands of the second and third generation of Woodbridge, with founder Charles' son Donald at the helm as president of the company and together with his wife Heidi (CFO) and their son Alan (vice-president) and Alan's wife Susan. Here's a short video of Alan talking about the company.
Like Coals to Newcastle
They produce over 70 products and sell around the world. Indeed, their biggest market is Germany. My favourite story is that they sell sauerkraut to Germany! Go figure… Their second biggest market is Australia, which explains why they have three clocks in their small office/retail shop: one that shows the local time, one that shows the time in German, and one that's shows the time in Eastern Australia.
Besides pickles, peppers, and relishes, they also produce a variety of hot sauces, pasta sauces, barbeque sauces, and salsa, most of which are proudly Foodland Ontario labelled, which means the majority of the ingredients are from Ontario.
The Last Packer in Canada
One other interesting – and kind of disheartening – fact about Lakeside Packing is that they are the last packer in Canada.
Wine on the Horizon????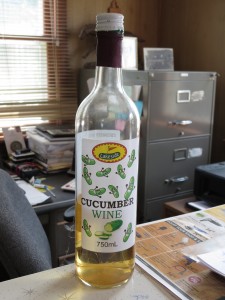 Alan does much of the development of markets around the world, but he also had a hand in product development. One of his latest innovations is cucumber wine. It's not ready just yet, but he expects it will be soon. I asked whether it will be more like a wine-based vinegar or something that you might use in cooking and he clarified that it is definitely going to be a sipping wine. (I tried to coax a sample out of him but the bottle he had had been opened a few days and he was concerned with the oxidation – but he said maybe next time I stop in).