Just back from another day of Taste the Season in Niagara-on-the-Lake with another friend. We stopped at five wineries and the pairings were very different at each.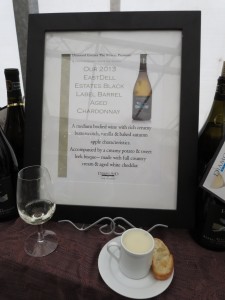 By far our favourite was at Diamond Estates where they were pouring their 2013 EastDell Estates Black Label Barrel Aged Chardonnay paired with creamy, cheesy autumn potato and sweet leek bisque. The wine paired very well with the soup. Of course, an overcast, cold November day is perfect for a hearty soup. But, it wasn't just the taste that we appreciated. Indeed, the fact that it was served in demitasse china cups was a welcome touch. (I don't mind saying I'm always a bit disappointed when they serve something on a cheap white napkin – they don't serve their wines in a paper cup – show some respect for the food!)
The other pairing we gave high marks to was at Southbrook. They were serving their 2012 Triomphe Cab Franc with a bite-size duck confit/pear and brie phyllo tart.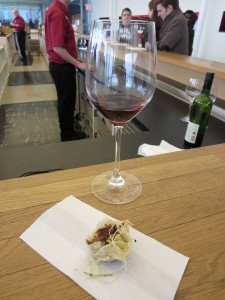 To be honest, there were a few disappointments, especially in terms of the food. At the last place we stopped (it was about 3:30), I'd say the chafing dish of food probably tasted good around noon – but by later in the day it was pretty unappealing. But, you win some, you lose some…