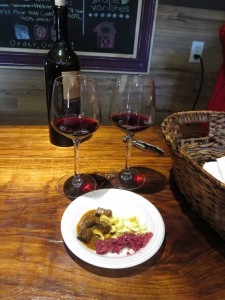 A friend and I stopped in at six Niagara-on-the-Lake wineries participating in Taste the Season yesterday. It was great to see so many people out and I got the distinct impression that many folks started by sampling the wine that was featured as part of Taste the Season, but they then headed over to the tasting bar to try other wines.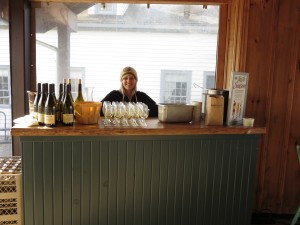 My favorite pairing of the day was Ravine Vineyard Estate Winery's 2012 Ravine Chardonnay paired with a rich chicken stew with mushrooms foraged by the chef. Delicious!
In terms of notable wines, both my friend and I both liked the 2012 Cabernet Merlot at Palatine Hills and we agreed that it seems like a wine that would be even better as it ages a bit. My friend's favourite wine was Hinterbook's 2011 Cabernet/Merlot. My favourite (despite the silly name) was Stratus' 2011 Kabang Red, which is a blend at Stratus.
It was also great to have a chance to try Lemberger, a varietal that I've never tried before. Between the Lines was featuring their 2012 Lemberger.
We also did an olive oil and balsamic vinegar tasting at OLiV, which is at Hinterbrook. We were both wowed by the infused oils and the different combinations. As one person doing the tasting with us said when we tried the OLiV Italian Herb Extra Virgin Olive Oil & OLiV Garlic Cilantro Balsamic, it was like liquid bruschetta!
Taste the Season continues the next two weekends – and I'll be heading back to NOL to stop in at some of the other 20 wineries we didn't get to yesterday.