That's right – there's still time to get your Cuvée 2015 tickets for the Feb. 27, 2015 Grand Tasting (along with a passport for the weekend) at the early-bird price of $175/person. After Dec. 31, 2014 it'll cost you $200/ticket. Tickets can be purchased on-line.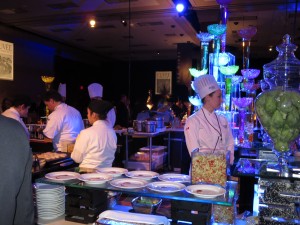 Cuvée was the most fun event I attended this year – and that's saying a lot, as there were many great wine events. Lots of things stand out in my mind about the Grand Tasting, including the fact that the winemakers were especially enthusiastic (and proud) to be pouring their favourite wine. Besides the wines, the food stations were lavish and the dance floor was hopping at the after party. In short, Cuvée was a terrific chance to dress up and spend the evening with friends and fellow wine and food lovers.
I know, with the holiday party season in full swing already, you might be starting to think that after January 1st all you'll want to do is diet. Well, I'm with you there – but that's ok because Cuvée is the last weekend of February. Believe me, by then you'll be so tired of winter activities (or inactivity, as the case may be) – there's no better way to break the doldrums than with a terrific party.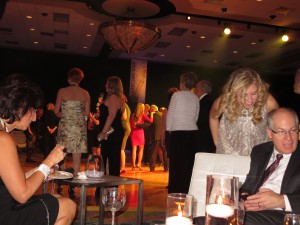 Cuvee 2015 marks the start of a new era – last year the Niagara Community Foundation, the charity that had been in charge of event for a number of years, handed over the reins to Brock University's Cool Climate Oenology and Viticulture Institute (CCOVI).
A block of rooms have been set aside at the Fallsview Hilton at special rates – I suggest you grab one of them too, while they're still available. (That way you can party without concerns about driving or even putting a coat on – your room will just be an elevator ride away.)