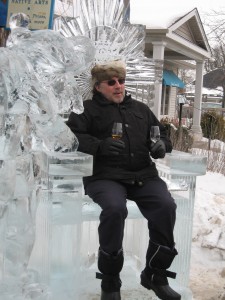 The 20th Niagara Icewine Festival is kicking off this weekend with the Xerox Icewine Gala on Friday, Jan. 9, 2015 at the Fallsview Casino Resort. If you didn't get your fill of fine wine and food over the holidays – or perhaps you just want one more reason to show off your holiday dress up clothes – the gala is for you. It's a bit pricey ($185+HST) but the VQA wine – icewine and table – is flowing, and the food chefs from the casino's finest restos are sure to serve up lots of fine foods.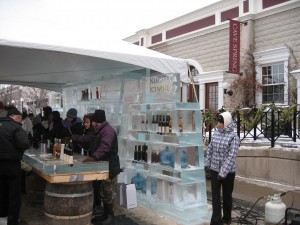 If the gala isn't in your price range or your style, don't worry. The Icewine Festival goes on for three weekends throughout the Niagara Region with a variety of events.
My personal festival favourite is the Twenty Valley Icewine Celebrations this weekend in Jordan Village. Main Street in the village becomes a winter wonderland of ice sculptures and ice bars, with more than 30 wineries pouring their luscious Ontario special nectar: icewine (and some other wines, including bubblies). A number of local chefs also brave the cold and serve up their delectable. This year Chef Michal Smith will be on hand doing cooking demos on Sunday. There's also free entertainment and cozy fires – trust me, you won't even notice the cold!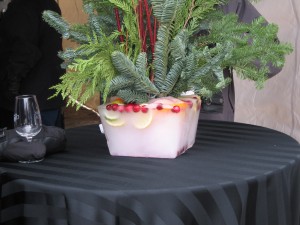 Chef Smith will also be hosting a dinner Saturday in the Windows Room and an Icewine Sparkling Brunch at On the Twenty Restaurant. Check on-line for tickets for these events.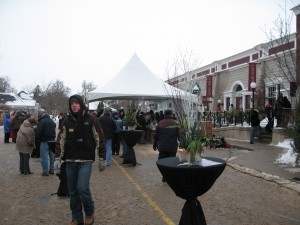 The second weekend and third weekends (Jan. 17-18 and Jan. 24-25, 2015) the party moves to the downtown area (Queen Street) of Niagara-on-the-Lake. The format is similar, with the 26 Niagara-on-the-Lake wineries pouring their icewine, and Signature Kitchen Chef showing off their skills. There will also be an icewine cocktail competition on Saturday night (Jan. 17th).
Discovery Pass Program at the Wineries
Beside the streetscape events in Jordan Village and Niagara-on-the-Lake, 37 wineries (19 in the Niagara-on-the-Lake region and 17 in the Twenty Valley) are participating in a Discovery Pass Program ($40+HST/Designated Driver Passes are $30+HST) that features wine and food pairings.
Because the festival is just days away, at this point, the Discovery Passes are only now only available at the wineries. (My experience is that the wineries are only allotted a limited number, so I suggest you head out fairly early and get a pass sooner rather than later!)
Here are the wineries participating this year:
Niagara-on-the-Lake Wineries

Twenty Valley Wineries
To find out what the wineries are pouring and serving, check the festival website.