In talking with some of the chefs that will be cooking at Cuvée 2015's Grand Tasting (Friday, Feb. 27th) I was struck by how calm they are about cooking for hundreds and hundreds of guests. What I also found interesting was the different factors they considered when designing the dishes they'll be serving.
When cooking at Cuvée, It goes without saying that the goal is to impress (or, as Chef Del Priore put it: the Wow factor). But that's not the only factor the chefs mentioned as being important. Using unique ingredients was key for Chef Downes. (I think it's safe to say that his choice of pickled tongue fits the unique ingredient criterion!) Local ingredients – and the challenge of sourcing them in the dead of winter – was a consideration Chef Midgley mentioned.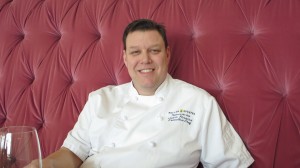 For Chef Jason Parsons, Executive Chef at Peller Estates Winery, the choice of cooking technique also played an important role in deciding what he'd serve. When he learned he'd been invited to participate in Cuvée this year, he quickly decided that sous vide was the way to go. The technique, which Parsons admitted can sound like boil-in-a-bag, allows the chef to bring the food to a certain temperature and then maintain it without overcooking or changing the taste or texture. As a result, it's a great way to ensure that every guest gets a serving that's cooked to perfection, regardless of whether they are the first person served or the 700th person served.
Parsons and his team will be serving two dishes at Cuvée: a sous vide salmon and a wild boar sausage.
Here's a short video of Chef Parsons talking about Cuvée – and extolling the virtues of sous vide cooking!