So – I know it's the dead of winter here in Ontario, but I've always loved February. Honest. My friends and family figure I love it because it's my birthday month. Well, sure, that's part of it. (My dream birthday present growing up was a day off from school because of snow!) But it's not just that. I love the fact that it's a no brainer in terms of what you wear – it's cold so you bundle up, right? Simple! And of course, smack dab in the middle is Valentine's Day! If that doesn't appeal to your heart (even if you're single) – well, you may as well stop reading this …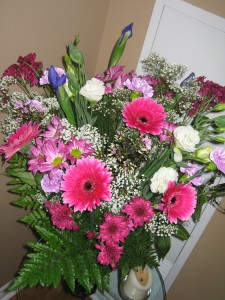 Anyway – if the reasons I've already mentioned aren't enough to win you over to the "loving February side", the wineries of Ontario go all-out in February to get your mind off winter. The wineries of Niagara-on-the-Lake, for example, are hosting their Days of Wine and Chocolate (more on that in a minute) on weekends throughout the month and on Feb. 7 and 8 the wineries in the Lake Erie/Pelee Island region (EPIC, as it's known) are having their Festival of Ice, and at the end of the month is Cuvée (which I'll be writing more about in coming posts).
As well, various wineries are hosting winter-themed events. Here's just a sample of what you'll find: Georgian Hills hosts an Après Ski tasting of their Vidal Frozen Wine and chocolates and roasted marshmallows ($20/person), on Saturday afternoons there's Raclette at Malivoire with The Cheesy Guys ($10/person and it includes tasting of 3 wines – great deal!), Peninsula Ridge's lovely restaurant is featuring a very reasonably priced ($24.95) Surf & Turf dinner every Wednesday, Thursday and Friday. As well, many wineries are hosting Valentine's Day dinners. So – really – what's not to love about February?
Niagara-on-the-Lake's Days of Wine and Chocolate
As mentioned, 27 wineries in the Niagara-on-the-Lake region are hosing Days of Wine and Chocolate on Fridays-Sundays in February (ending on Sunday, March 1) from 11-5 p.m. The passports ($35/person; $30/person for designated driver passports) are good throughout the event, which means you can enjoy wine and chocolate all month long. Tickets can be purchased on line and at participating wineries.
Here's the list of the wineries and what they're serving: