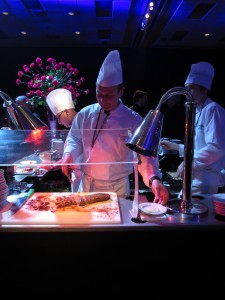 Well, once again this year, the Grand Tasting was excellent. My sister came in from the States and it was terrific to be able to buy a ticket at the door. My sister had never been to a wine gala and, though I told her the crowd would be well dressed, I think she was surprised at how many people were in black tie attire. (I have to say – the women looked spectacular – the men, well, let's just say they weren't as consistently formal as the women.)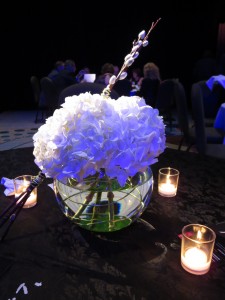 Walking into the Grand Ballroom was like walking into a beautiful dream. The room, which is basically black, was magically lit with vibrant purple and white lights shining on different food stations with chefs in their crisp white jackets and toques. And, in every direction you look there were magnificent floral arrangements.
Throughout the room there were seven oasis-like stations with six to eight wineries at each. Each wine station featured wineries pouring only reds or only whites. That made it easy to compare, and it also made it easy to find a wine to pair with whatever you were eating.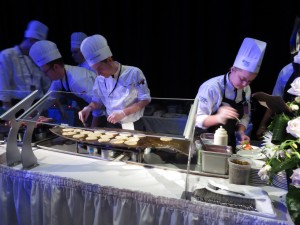 The 13 food stations (as well as a Canadian cheese station) were interspersed between the wine stations. At each station a myriad of chefs were carefully plating each dish. It was wonderful watching them lovingly layering each component. It's clear that today's chefs take the old adage that you eat with your eyes very seriously. They also take their ingredients seriously and because they were right there, you had the unusual chance to chat with them and ask them how they prepared the dish, or why they chose each component.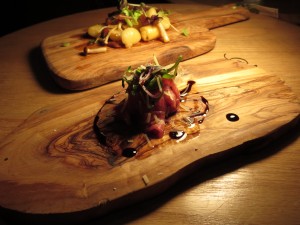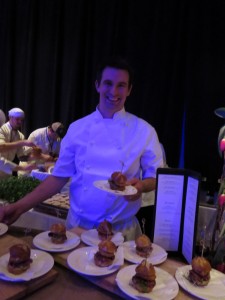 Hands down the biggest surprise for me and my sister was how delicious Chef Downs' pickled tongue slider was. The tongue was cooked to perfection and the combination of the pretzel bun, the horseradish aioli and the fried egg was amazing. Chef Downs's other entrée – rare seared tuna, chilled octopus salad, and pickled kumquat with chili-lime vinaigrette – was also a delightful surprise to me because it featured one of my favourite ingredients: sea asparagus. (You don't see that too often around here.)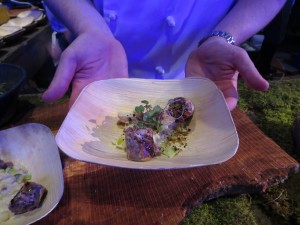 I also adored Chef Parsons' wild boar sausage with braised leek, gold fingerlings, Sir Laurier cheese (one of my favourite Canadian cheeses) and black garlic gratin. My sister's favourite entrée was Chef Tim Mackiddie's fried veal croquette, which was served with snails sautéed in garlic and icewine. And both of us loved Chef Taylor's pepper crusted bison tenderloin, served on a bed of parsnip puree with some king oyster mushrooms on top.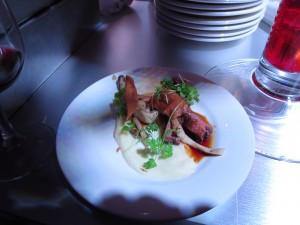 And of course, the desserts were the grand finale. It was hard to choose between the white chocolate-coated cakes, the Croque en Bouche, the truffles, and the torts. Fortunately, Chef Del Priore was only too happy to let you have all that you like. (My favourite was the white chocolate cake with the hazelnut filling.) Chef Vergalito's gelato was also a hit – who ever heard of mojito flavoured gelato? Yum!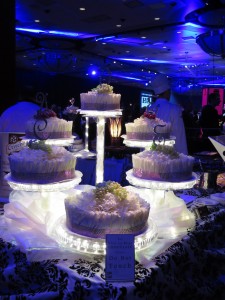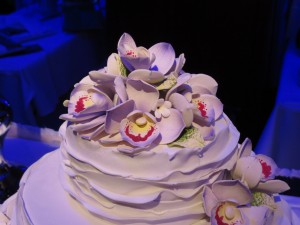 As you might expect when each winery is pouring the winemaker's favourite, there were many lovely wines, and some interesting stories behind the selections. Josephs Estates' winemaker, Katherine Reid, had an especially interesting reason for choosing their Chenin Blanc 2011. She explained to us that the 2011 vintage is the last one there will ever be from those vines because they were damaged over a couple of winters and they ended up tearing them out.
Pillitteri Estates Winery was pouring their Riserva Famiglia Appassimento Cabernet Franc 2010. This is the first appassimento style Pillitteri has made and given that they only label wines from their very best vintages "Riserva Famiglia", you know that this is a very special wine.
In terms of our favourite wines that evening, my sister loved the Rennie Estate G Assemblage 2012, an appassimento style Bordeaux blend. My favourite wine of the evening was Kacaba Vineyards' Cabernet France Reserve 2010.
And, just when we thought we had had had we could eat and drink, they opened a side room for the Apres Cuvee party. The after party featured a live band and two additional wine stations serving a variety of Ontario bubbly and Icewines. And, for those who had had enough wine, this year they also had stations serving Ontario craft beer.