Sip and Sizzle is an annual passport event that over two dozen wineries in the Niagara-on-the-Lake hold in May. As the name implies — the idea is to inspire folks for the summer barbeque season with a sample of something from the grill and a great Ontario wine. I love the idea and this year the wineries seem to have taken the idea to heart more than in the past, as they have truly tried to serve something that has a BBQ component.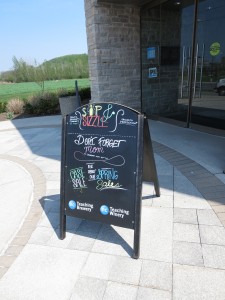 Niagara College Teaching Winery was my first stop and I loved the sign that they had out front with some terrific ideas for Mother's Day. They are serving their 2010 Dean's List Pinot Noir with smoked salmon rillette on grilled zucchini. I was curious as to what this would look like and the appetizer was just beautiful. The grill marks on the zucchini are not visible in the photo, but they were perfection and the perfect bed for the rich smoked salmon mouse mound. The wine, one of the older vintages featured in this year's Sip & Sizzle, went very well with the salmon.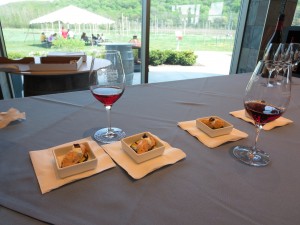 Having started with a Pinot Noir, I decided to stop at Between the Lines to try their 2012 Pinot Noir, which they paired with a grilled tortilla served with pulled pork and a tropical fruit salsa. Perhaps it was the pairing, but I preferred the 2012 Between the Lines Pinot Noir to the Niagara College's 2010 and it was a bargain at $15.95.
The biggest surprise of the day came at Palatine Hills Estate Winery. They deserve kudos for their creativity in terms of how they got the grilling element in — it was bacon. I know, bacon may not seem too unusual, but it was the crumb topping on a cone of Avondale Maple Ice Cream! Yuck, you say? Well — I say, give it a try. It was delicious!  And then, they get even more credit for pairing it with their 2012 Riesling. It was a fabulous combination.  It is sure to surprise and delight!  Oh — and they even did a great job with the ice cream shop theme at the tasting booth. Well done!!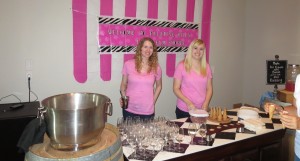 Those are just some of the highlights of the day.  There were many other tasty combinations — but the best thing to do is go out and explore for yourself. And don't worry — there's no way you'll get to all of them today — but the passport is good for Fridays-Sunday for the whole month — so you can always go again and stop at the ones you don't get to today!