In the food and wine world, there's a lot of talk about food and wine pairings. For those less into the food and wine scene, such talk can cause serious eye-rolling.
I'm not particularly ridged about trying to match foods and wines. I listen to the experts and take their suggestions under advisement, but I don't slavishly follow any "rules". Indeed, to me part of the fun of wine tastings that have food components is to try different wines with the cheese or the oysters, or olives, or whatever is being served.
That said, this afternoon at a New Wines of Greece tasting I had the chance to find out first-hand how some foods can absolutely ruin your palate, causing very lovely wine to seem awful.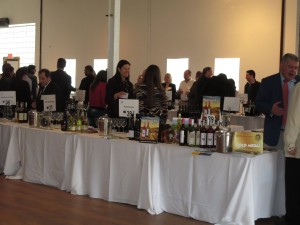 I had just tried Wine Art Estate's 2014 Techni Malagousia, a lovely white made of 100% Malagousia. I enjoyed it and was asking Akis Papadopoulos, the winemaker, about their wines. (Unfortunately Wine Art Estate's wines are not currently available in Ontario – they are looking for a wine agent to represent them.)
Akis had another white that he was pouring – their 2014 Techni Alipias White, which is 80% Sauvignon Blanc-20% Assyrtiko. He poured me a sample and when I asked him which of the two whites he preferred, he said he prefers the Alipias White. So, I was anxious to compare the two.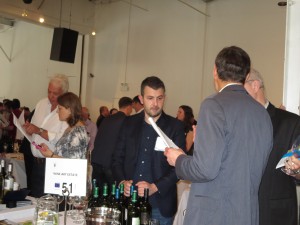 I hadn't yet tried the Alipias when a server came by and offered a lovely-looking deep fried artichoke heart. As soon as I took a bite, I realized that though I love artichokes, they are not a drink friendly food. Their high iron content has a way of taking over your taste buds.
As I swallowed, I apologized to Akis, as I suspected that given what I had just eaten, I probably wouldn't enjoy the Alipias. Unfortunately, I was right. After that little morsel of artichoke, I could not enjoy the wine at all. Embarrassed, I promised I would return when my palate had cleared a bit.
Later I went back and sheepishly asked for another sample of the Alipias. Akis was happy to oblige, and sure enough, it very nice. I had no idea that Greece grew Sauv Blanc and the blend with the Assyrtiko, a grape native to Greece, was perfect. I could imagine it on a hot summer day…
I left the wine tasting with an appreciation for the many varieties of wines made in Greece (there is way more than Restina out there) and a stark reminder that though many different wines pair with different foods, there are definitely some foods that you should avoid if you want to enjoy your wine…