A couple weeks ago visiting wineries in Prince Edward County I got the chance to see – first hand – the impact of the cold snap that hit on May 22-23. Our first stop was Hillier Creek Estates. As we drove in my friend wondered whether the vines planted out front were new, as they were very small and virtually no leaves. I said I was pretty sure that that in years past those vines were tall and hearty with leaves.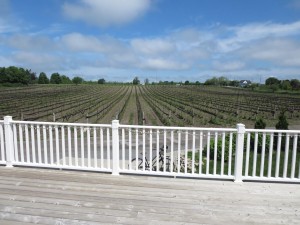 Woody Cassell, the vineyard manager at Hillier Creek Estates told me the sad news – all their vines were damaged in the cold snap in May. The primary and secondary buds were so damaged that they won't be harvesting anything this year. Woody was kind enough to take me into the vineyard to show me. Here's a short video of Woody explaining what they're doing this year.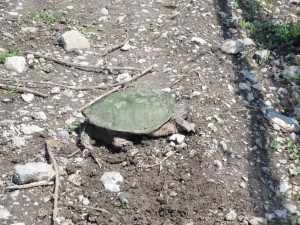 Though walking through the vineyard was sobering – leave it to Mother Nature to provide a reminder that just because there won't be grapes this year, doesn't mean there aren't other signs of life. Sitting smack dab in the middle of the row was a huge snapping turtle. Woody explained they get them every year. Apparently they wander over from a nearby creek and they bury their eggs in the vineyard. So, in a few months' time little turtles will be scurrying about — as usual.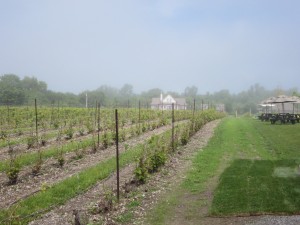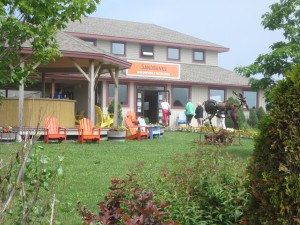 We then headed to Sandbanks Estate Winery, which is much closer to the water than Hillier Creek Estates. En route we passed through lots of fog. Indeed, the closer you got to the water, the better you could see the fog literally rolling in. The moderating impact of the water was clear at Sandbanks Estates, as their vines looked healthy and green. Unlike Hillier Creek Estates, the late May cold snap didn't impact their vines at all.
Nearby Keint-he Winery & Vineyards suffered some loss, but like Sandbanks, they were luckier than some. And of course, they – like other growers in the county – did all they could to try to keep the air circulating those cold nights, but with record low temperatures, there's only so much they could do.