I write a bi-weekly blog called On being … that's more general musings on life. Because my most recent post for On being … was inspired by a recent event at Oxley Estate Winery, I thought I'd share that post here…
On being … a celebration of home
I was visiting some friends who live in the wine region along the north shore of Lake Erie, south of the Windsor/Detroit area. It's the kind of place where people often give the name of the county, rather than the town where they live, because they figure more people have at least heard of the county. It's primarily an agricultural area, but it's got more of a small town feel than a rural feel, if you know what I mean.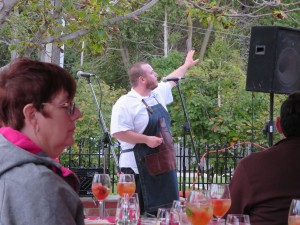 One of the highlights of the weekend was a special dinner at Oxley Estate Winery. The formal title was: Oxley Celebrates Home. If you guessed they were doing the locavore thing, you'd be right – but with a few added twists. It so happens their young chef (Aaron Lynn) is a local kid who went away for culinary training and, after honing his craft working in some fancy restos, he returned to the area last year. Lucky for Oxley Estate and for those who have a chance to eat at the winery.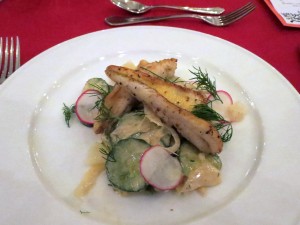 Not only did each of the five courses feature local ingredients, the chef named the dishes after the local purveyors – a nice touch, I thought. So, for example, we dined on Todd's Perch (named after Todd, the local commercial fisherman the restaurant buys from), Rick's Lamb, and Farmer Doug's apples. But that wasn't all. Before the meal, the chef introduced all of the local suppliers and asked them to stand so we could honour and recognize them as the people responsible for all the good things we were about to enjoy.
And, the celebration of things local didn't end with the food. Ann, one of the owners of the winery, introduced the musicians who would be entertaining us. Turns out they too were from the area and when they're not in town, they're in Nashville working as backup musicians to some well-known country music stars.
During the dinner I was chatting with a woman sitting next to me. She was a local and so I was asking her a bit about the area. We talked about one of the bigger towns in the county and about how much it's growing. The town's population is up to about 21,000, which is pretty big, as towns go. And, like many Ontario towns, there's a definite centre with some small shops, a few restaurants, a couple banks, and a library. But, the pickings were pretty limited in town. I wondered aloud where people go if they have any kind of serious shopping to do. She laughed and said that these days, she can get pretty much anything on-line. But, if there's something she can't order, it's probably available in Windsor, which is "only about 25 miles away".
Then I asked about grocery shopping. I had noticed that there are two well-known supermarkets, but I'm used to checking the weekly fliers of at least four major chains before I go grocery shopping. She said she didn't care that other major grocers weren't around. "I love shopping at those supermarkets. The people that work there are my neighbors and friends – why would I go anywhere else?" I was really struck by her response.
Later in the conversation, the topic of the refugee crisis came up. She mentioned she's catholic and she said that in the next few weeks her church would be deciding on whether they will take in a refugee family, as the Pope has suggested. She said she's going to push hard for them to do so.
I hadn't heard about the Pope's suggestion that every parish should sponsor one family, but it struck me as being in line with something else I read the Pope said about the current wave of refugees. He urged people to not see the crisis as involving hundreds of thousands because it's just too overwhelming. Instead, we should respond to them as individual people – just one at a time. Though it's such a simple idea, it's about the most concrete, constructive idea I've heard from any leader about how to deal with the situation. I smiled at the idea of some refugee family settling down there and eventually calling themselves locals.
After dinner, I was thinking about how the theme of the evening could just as easily have been "the joy of human interaction". Living in the city has its conveniences, opportunities, and even independence. But, if you're not careful, city life can also bring with it a loss of connectedness. Fortunately, the condition isn't irreversible. My weekend in the country reminded me that the best way to feel connected again is to celebrate what each individual brings to your life. If you do that, I think you'll feel at home wherever you are.
© 2015 Ingrid Sapona