I love Prince Edward County but I've always wondered what it's like in the "off season". So my sister and I decided to enjoy a few days rest and relaxation on Dec. 22 and 23 with a visit to the County.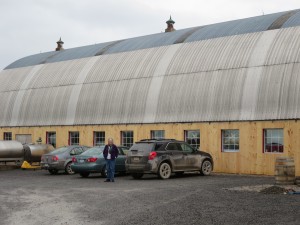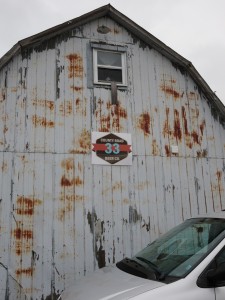 Of course, our first stop was a winery — we stopped in at Hinterland Wine Company to see what's "brewing". You see, I had heard that owners  Vicki Samaras and Jonas Newman didn't have enough to do (they also have an interest in a winery in Greece!) so they are starting to make craft beer. The brewery, which hasn't officially opened yet, will be called County Road 33 Beer Co. Unfortunately we just missed Vicki and Jonas — but next time I'm in the county, I'm sure the brewery will be open and hopefully they'll show us around and tell us what inspired the new venture.
From there we stopped in at Sandbanks Estate Winery. The colourful Muskoka chairs, which I always think are so welcoming in the summer, added colour to an otherwise grey December day. There we did a horizontal tasting of Baco Noir, which was fun. We also discovered one of my new favourites — their Baco Noir Reserve.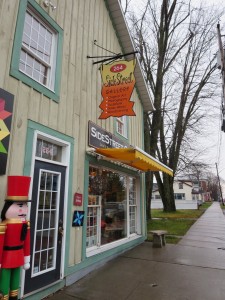 We stopped in Wellington and Bloomfield for a bit of browsing. In Wellington we enjoyed SideStreet Gallery, and had a pleasant conversation with owner Paulette Greer.
In Bloomfield we were quite surprised at how HUGE Green Gables Gifts and Greetings. The welcoming front of the building makes you think you're walking into a quaint little shop. But as you make your way from room to room, you realize it's a quaint BIG store with lots to look at and tempt you.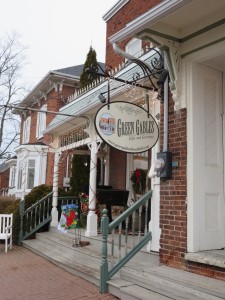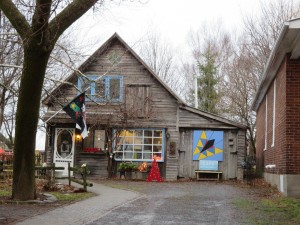 If you're peckish, as we were, I suggest you stop in at Saylor House Cafe. We didn't want lunch, per se, just some tea and something sweet. The most tempting sweet was a frosted number that looked like a carrot cake. When I asked about it, I was told it was a Hummingbird Cake. Not too helpful a description, I thought. When I made a face, the owner smiled and explained that it's name coconut banana cake that gets its name from the fact that those who eat it end up humming with joy. Well, with that explanation — how could we not try it! Trust me, it was worth its name.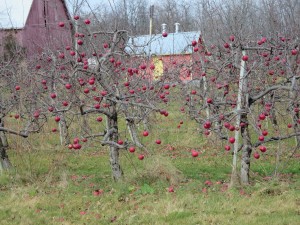 We also made it out to Waupoos Winery because I wanted to show my sister the different fruit trees that they grow — things you wouldn't expect to find in Ontario — like lemons. To my sadness, the trees were gone. Thinking that maybe I had imagined that from earlier visits, I asked. Turns out, they take the trees in during the winter. (That explains it!) Across the street from the winery we had noticed a grove of apple trees with the red gems still on. My guess was that they were left for pressing in winter after they're frozen. Indeed, that's the case — they're hoping to make an iced cider.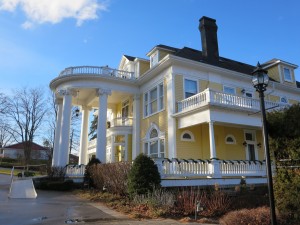 Since it was the holidays, we decided to go first class and stay at the Claramount Inn. Turned out to be a great choice. The spa was open, as was the indoor pool, not to mention Clara's Restaurant. The view of Picton Harbour was terrific — definitely a place to return to.
Picton was buzzing with last-minute shoppers. We promised ourselves we wouldn't shop too much, but we couldn't resist the shops. We especially loved the UnGallery and Arts on Main. One of the especially noteworthy things that reinforced my warm feelings for The County is the fact that the day we were there (Dec. 23rd) parking on Main Street in Picton was free, with any money put into the parking meters going to the local food bank! (One of the rare times I didn't mind paying for parking!) What a terrific idea, eh?
This trip was more balanced than my usual trip to The County because we took more time to enjoy the different things there are to do — from wine to food to arts and hospitality. Truthfully, it only made me love The County more!
Post Script: , we didn't have a chance to stop at Karlo Estates, but I hear that Derek Barnett, formerly of Lailey Estates, has taken over as winemaker at Karlo.