A friend and I popped down to Niagara-on-the-Lake yesterday for Sip & Sizzle. A few years ago we enjoyed this event, but I must say, this year the selections are even better. The Wineries of Niagara-on-the-Lake and Konzelmann Estate Winery had invited me and I had plans to go earlier in the month but I didn't get a chance to go earlier.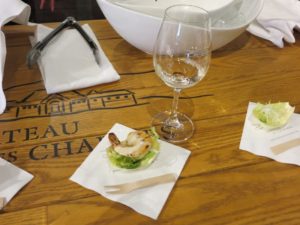 We stopped at Chateau des Charmes, Ravine Vineyards, The Hare Wince Col, Konzelmann Estate Winery, Strewn Winery, Peller Estates, and Two Sisters.
One of the fun things about these passport events is seeing how the wineries interpret the theme. Given the name, it's easy to assume that the food would centre on something on the BBQ. Some wineries certainly did interpret the theme that way. For example, Château des Charmes is serving a grilled prawn atop a shoot and sprout salad with a garnish of a citrus zest emulsion paired with their newly released, refreshing 2016 Sauvignon Blanc.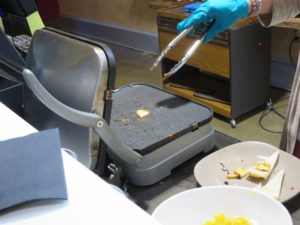 The Hare Wine Co. served with their 2016 Jack Rabbit White (a Riesling/Vidal/Gewürztraminer blend) with small pita wedge with a (very small) piece of Halloumi cheese marinated in tikka sauce and then melted a bit by frying it on the flat side of a panini press and then topped with a slice of canned peach.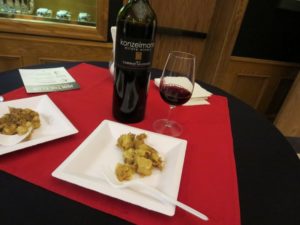 Konzelmann Estate Winery served their 2015 Cab Sauv paired with braised veal cheek rillettes with parmesan and potato gnocchi in a grilled butter sauce. When I asked the person serving where the "sizzle" came in, she was a bit stumped. Then I re-read the description and saw that the food was created by a local restaurant called "Grill on King" – so, I guess Konzelmann at least had the spirit of the theme in mind.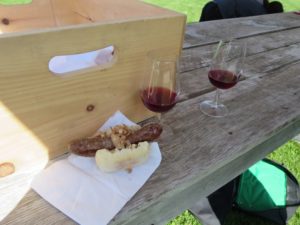 At the end of the day, my friend could not choose his favourite wine – he enjoyed them all. In terms of food, he liked what Peller Estates Winery served: cabernet wild boar sausage on a ciabatta bun with Quebec maple mustard, fried chili shallots and mustard seedlings served with their 2015 Private Reserve Gamay Noir. I think Peller's choice of serving a hearty, tasty sausage is brilliant. It was a clear crowd pleaser – especially for the men who were there – and showing folks how well the wine pairs with something many of us will be gilling up this summer makes perfect sense.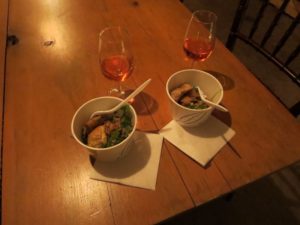 In terms of food – I loved what Ravine Vineyards served: Rossco's harissa grilled chicken thig on a mixed grain salad. Indeed, if there was one recipe I'd LOVE to get, it's for the grain salad – so flavourful! I will confess that I didn't much care for Ravine's 2015 Cabernet Rosé – but, the food really paired well with it and it brought out the best in the wine.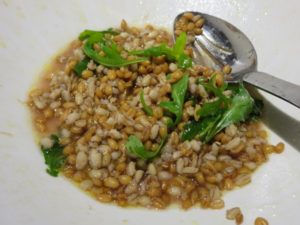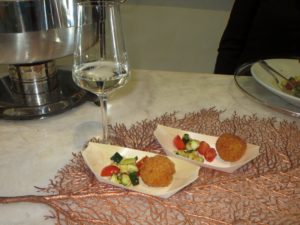 The other food that I adored was Two Sisters' cod potato fritter with a grilled zucchini, tomato and basil salad. It paired beautifully with their 2016 Sauvignon Blanc. The food was prepared by Kitchen 76, the restaurant at the winery. I've not yet eaten at Kitchen 76 because it seems rather pricey (even for NOL) but the fritter and salad were so tasty, maybe next time I'm looking to splurge on a meal, I'll give it a try.
In terms of my favourite wines, I couldn't choose just one. But, in whites the Sauvignon Blancs were the winners. That said, I ended up coming home with the well-priced 2016 Estate Grown Sauv Blanc from Château des Charmes ($14.95). The Two Sisters' version was lovely, but at $34, I took a pass. In terms of reds, Konzelmann's 2015 Cab Sauv was lovely and quite a bargain at $13.95.
If you've already got plans for this long weekend, don't worry – Sip & Sizzle continues this weekend (Saturday and Sunday) and next weekend (Friday-Sunday).