It's Family Day weekend here in Ontario – a long weekend designed to give folks a mid-winter break. Most years, that means a weekend of snow-filled activities. With an unusual early spring thaw (temperatures topping  10°C – over 50°F), I'm sure lots of folks had to change their plans.
Fortunately, for me and my friend Cory, the weather was perfect for a day of winery visiting in Niagara-on-the-Lake (NOL). As I mentioned in my last blog, the Wineries of NOL provided me with a couple of passes to the Days of Wine and Chocolate event that'is going on all month. Here are a few of the highlights of the day.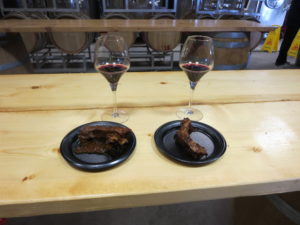 Our first stop of the day was Pondview Estate Winery. They were serving their 2013 Bella Terra Cab Sauv with ribs in a chocolate infused sauce. I have to say – Pondview never disappoints for these events. They always showcase one of their nicer wines and they always serve something tasty. This year was no exception. The ribs were outstanding. The Bella Terra is a lovely wine, but because they were serving in their barrel room, the glasses and the wine were very cold, which was a shame. Regardless, it was a great pairing and both of us agreed that it would be hard to beat.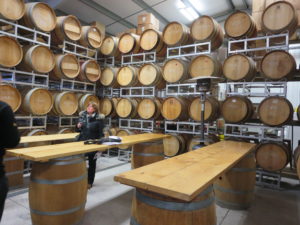 The only pre-planned part of the day was lunch at Backhouse restaurant. I was keen to try the restaurant because I've sampled Chef Ryan Crawford's charcuterie at different events. Crawford and his partner Beverley Hotchkiss opened the restaurant about 18 months ago and it has been very well received, so I made sure to make a reservation.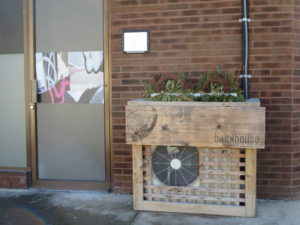 I knew exactly where it was (242 Mary Street in a small plaza where Mary Street intersects Niagara Stone Road), but from the outside, the restaurant is easy to miss. And, because the windows are all covered over, it almost looks like they've  gone out of business. Indeed, we followed a couple in and we overheard one of them saying to the hostess that he thought maybe it was closed. But, it's so attractive and welcoming inside, you quickly forget about what the outside looks like!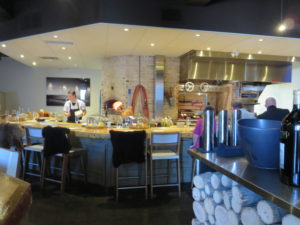 The host asked us if we wanted a seat at the Chef's bar or at a table. Normally I don't like sitting at the bar – but it was clear that that was where the action was, and the seats were very comfortable looking. When I asked what she'd recommend, the hostess said, "Definitely the bar – that's considered our premium seating". So we took her suggestion – and boy were we glad we did.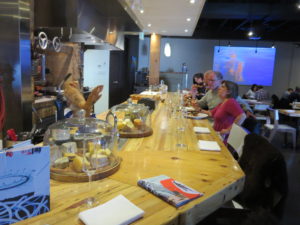 Sitting there gave us a chance to talk to the staff and watch as they lovingly plated different things. We didn't want anything too heavy and since I knew that Chef Crawford is known for his charcuterie, we settled on the Backhouse Plate for 2 and a side order of frites. The Backhouse Plate features a selection of charcuterie, bread, cheeses, preserves, and pickled green beans and pickled sour cherries. It was delicious.
We had a peak at the dinner menu. They have some items a la cart, and a selection of tasting menus that sounded amazing. I'll definitely be back to try a tasting menu – and I'll definitely book the seats at the Chef's bar. We purposely didn't have dessert at the restaurant because we wanted to try some of the Days of Wine and Chocolate dessert pairings.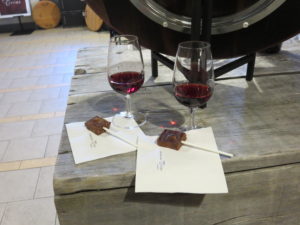 We had noticed that Trius Winery was serving S'mores, and that sound fun. Turns out we didn't read the description that carefully, so we were surprised when it wasn't a traditional S'more – it was S'more fudge. They paired it with their 2015 Gamay Noir. That turned out to be one of Cory's favourite wines of the day – and the pairing made both somehow richer.
Another standout in terms of a wine/dessert pairing was at Pillitteri Estates. They were serving their 2013 Cab Merlot with a dark chocolate cup with milk chocolate mousse with a drizzle of Cab Merlot raspberry compote. The lightness of the milk chocolate mousse and the tartness of the compote paired very well with the wine.