If you're a wine enthusiast and you see yourself as someone who is "hands on" (not to mention if you have fond memories of Lucy and Ethel getting down and dirty in a wine barrel) – Flat Rock Cellars' Pick, Stomp & Taste is for you!
I had seen this annual event announced a few years ago, but I hadn't had a chance to attend. This year I happened to see it announced in a tourism newsletter and when I checked my c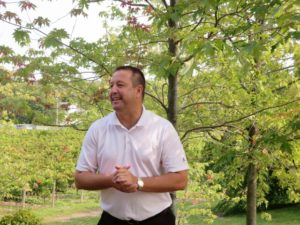 alendar and found it was clear – I called the winery to book it. (I was surprised that the event wasn't listed on the winery's website – I asked them about it and they said it's so popular they only advertise it through signs at the winery and on social media.)
Yesterday was the perfect day for it – sunny and hot. Ed Madronich, owner of the winery, was our enthusiastic host. (Click here for a short video of Ed talking about Flat Rock Cellars and about Ontario being the idea wine-growing climate.)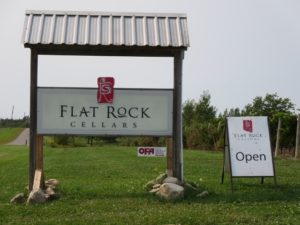 After welcoming us, he explained how the afternoon would unfold, warning – a number of times – that the shears were sharp AND when you're getting into the vines to clip with one hand "you can't see your other hand". Though his repeating of the warning may have seemed a bit much to some, I didn't mind. (I didn't hear of any injuries among the group, so clearly everyone took note.)
We were picking not-quite-ripe Riesling. In groups of four or five, our task was to fill a bin.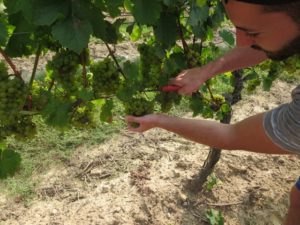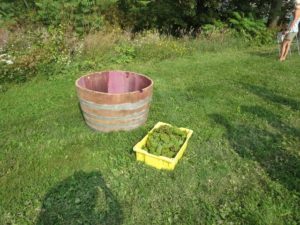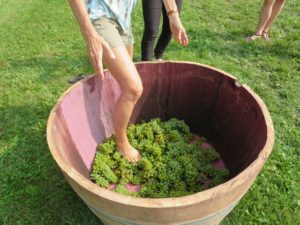 When our bins were full, we dumped the grapes into a half-barrel and, with the warning that it can be slippery, the first person gingerly stepped in. Though shy at first, we soon found the more the merrier in the barrel.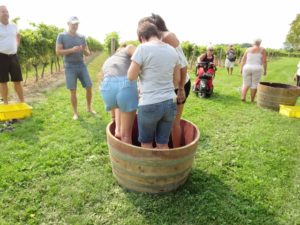 And, we soon realized there's no "right way" to do it and different folks had different techniques!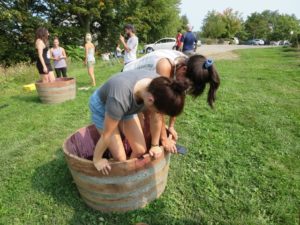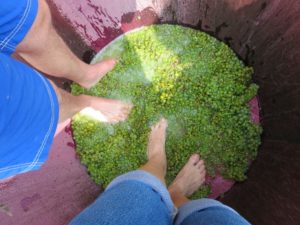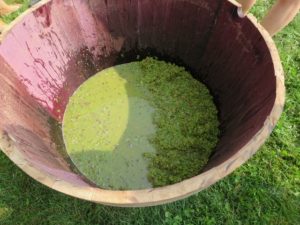 When we felt the grapes had given up their last bit of juice, it was over to the garden hose for a quick wash.
Then we went upstairs to the hexagonal tasting room to taste, and enjoy the lovely view of the vineyard and Lake Ontario in the background. Ed led the tasting that included a sip of fresh Riesling juice. (It was not the juice we had just made – it was juice they had squeezed that morning – not by folks stomping on it, we were told.) The tasting was surprisingly fun too – mainly because of Ed's enthusiasm and candor. He explained why you should always start with reds and move to whites – and he had us taste in a particular order to demonstrate the wisdom of this approach.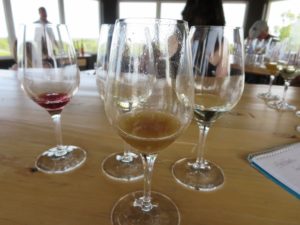 My favourite comment of the day was when Ed admitted that at tastings, he doesn't spit – he can't bring himself to waste the wine! Hear, hear!
Flat Rock Cellars hosts Pick, Stomp & Taste again next weekend (September 23/24). Reservations are required, and it fills up fast – so call the winery now (905-562-8994 or Toll Free: 1-855-994-8994)  – or mark your calendar to book it next year.