A cousin who lives in the States was bringing an Italian visitor to the Falls and so we decided to meet in Niagara-on-the-Lake for dinner.
Yesterday was a beautiful – HOT – summer day and so I left Toronto a bit early to enjoy the drive and to pop into a couple of wineries. My main stop was Redstone Winery because I wanted to try their Bistro Riesling 2019, Niagara Peninsula – it was one of the Platinum award winners in the 2022 National Wine Awards of Canada. It isn't available at the LCBO, and at a very reasonable $14.95, I thought it was worth a stop.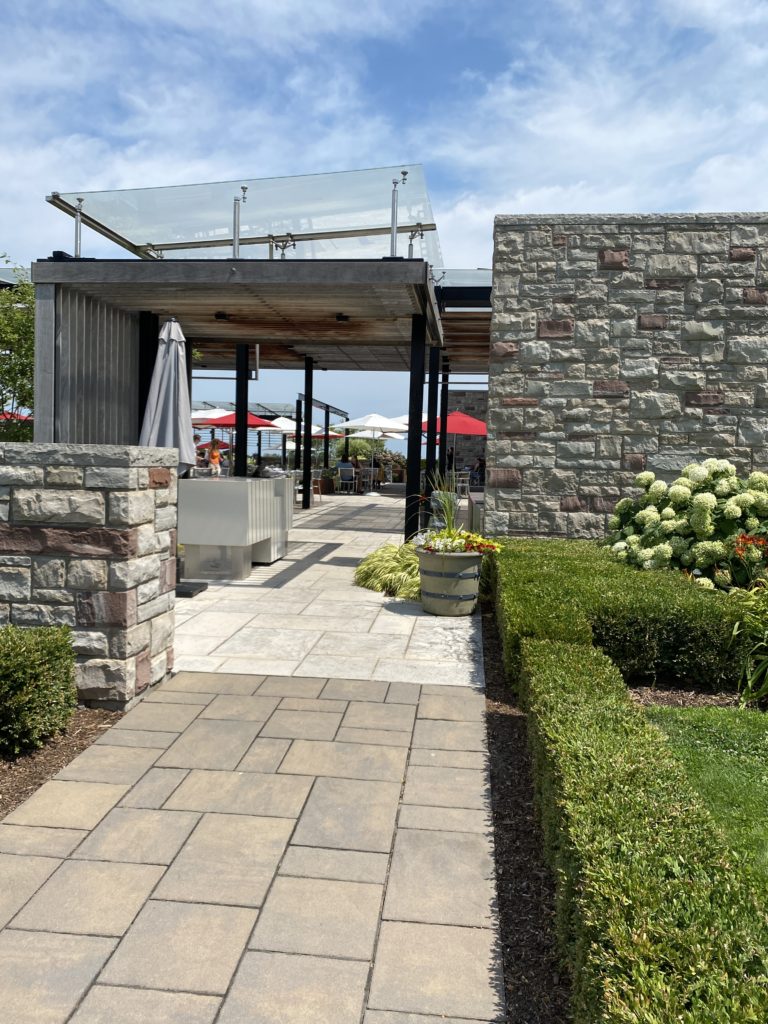 I've been to Redstone Winery before – but it's been a few years, and I've never been there in the height of summer. What a difference sunshine makes. I parked in the side lot, figuring I'd walk around to the front, where the tasting room is. But, the expansive back patio drew me in. It was lovely! I didn't have time to stop for a bite, but it's now high on my list to return to for an al fresco lunch.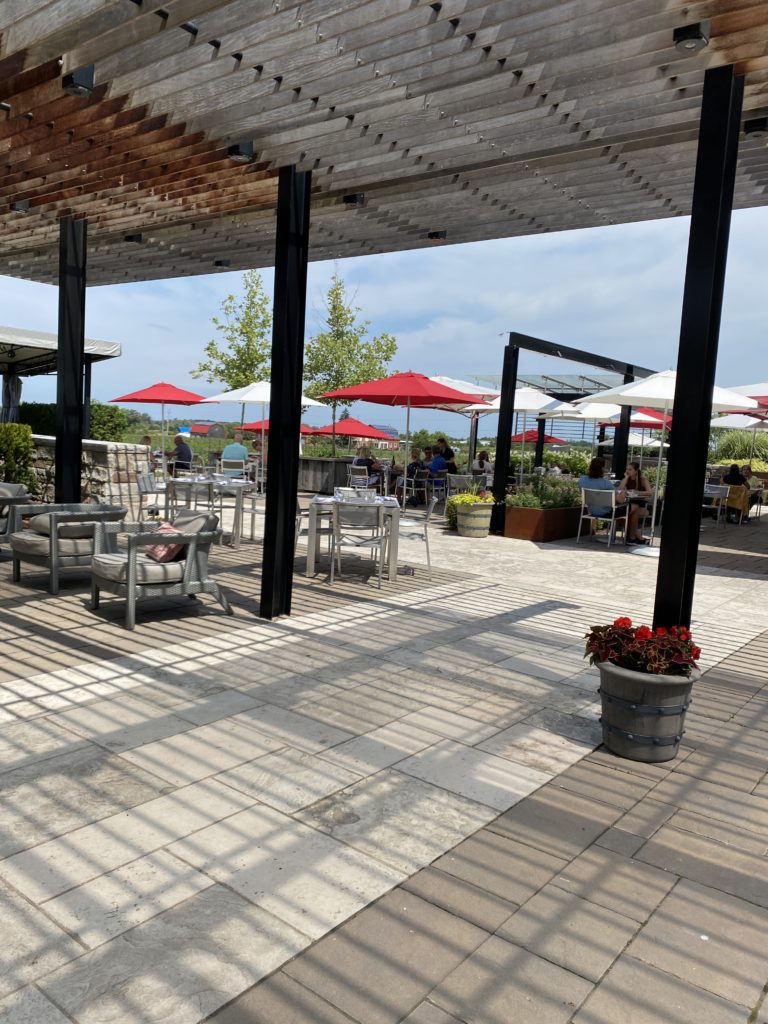 The Bistro Riesling didn't disappoint. It's dry and minerally – my ideal Ontario Riesling. During Covid I had been enjoying Tawse Riesling 2019, Niagara Peninsula, which was a Gold medal winner in the same wine awards that the Redstone Bistro Riesling won Platinum. Given that Tawse and Redstone are sister wineries – and the Tawse Riesling I like is sold out – I needed to find another reasonable Riesling. The Redstone Bistro fit the bill perfectly.
The other stop I wanted to make was to Cave Spring's new Vineyard Tasting Room. For those of us who associate Cave Spring with Jordan Village, seeing arrows for Cave Spring on King Street that point UP a narrow road to the top of the Escarpment was confusing. But, always game to explore – and not daunted by a sign that says "no exit" (you can always turn around, after all), I drove up the road.
SO glad I did. At the top was what I was looking for – a brand new, huge, two-story see-through building surrounded by a beautiful vineyard-facing patio. The building has been open for a couple weeks, but they're still putting some of the final touches on it. Regardless, the tasting bar is functioning, so I decided to try a few of their Rieslings. Their Riesling Dolomite has always been one of my favourites and since it's not sold at the LCBO, I couldn't leave without a bottle.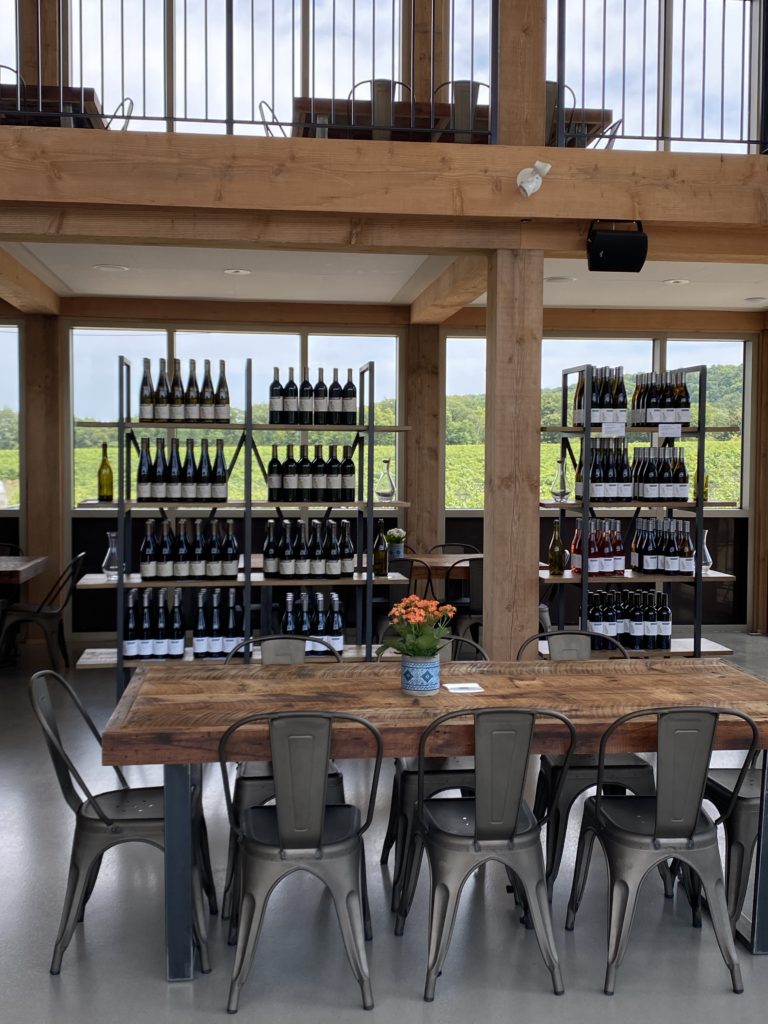 Cave Spring still has its tasting room in Jordan Village – that's where they do their processing. But this vineyard-side spot will serve them well. It would be lovely to pass an hour or two with some wine and a nibble – either a charcuterie board or a dip and chip option. Again, another place I look forward to going back to when I have more time.
Though my winery visits were brief yesterday, it was nice to become reacquainted with the area. It was also a good reminder of how lucky we are to be so near such lovely spots.