SIAL Canada is the largest food innovation trade show in North America. Since 2010 it has alternated between Montreal and Toronto and after a four-year hiatus it's back in Toronto. The three-day expo features some 800 exhibitors from all over the world.
I've been following SIAL Canada for a few years and I was really excited to attend the show. So, my next few blog posts will be about some of the different things I saw, tasted, and enjoyed at SIAL Canada.
The word that best sums up how I felt today (day one of the show) is overwhelmed. I knew there would be lots to see, but I hadn't expected to see booths from literally all over the world. As I expected, there were many, many, many booths featuring individual vendors – food producers, food distributors, packaging companies, and so on. But there were also groups of booths sponsored by different countries, different regions within countries, trade associations, etc., that showcased foods and products of those regions.
Walking around felt like being on vacation wandering through fabulous foreign markets where you can sample this and that and chat with vendors who are happy to talk with you about their products and countries. And with every corner you turned, you found yourself in a different part of the world.
Images: Brazil's innovative booth, featuring a swing; The Consulate General of the Czech Republic in Toronto; The state of North Carolina; a vendor from Algiers taking a photo of his booth just after setting it up; multiple rows of booths from Turkey.
And of course, there were some little things I noticed that tickled me. I loved watching one cheese producer setting up his booth. After putting out the cheeses, he delicately garnished each with fresh edible flowers – making a feast for the eyes as well as the palette.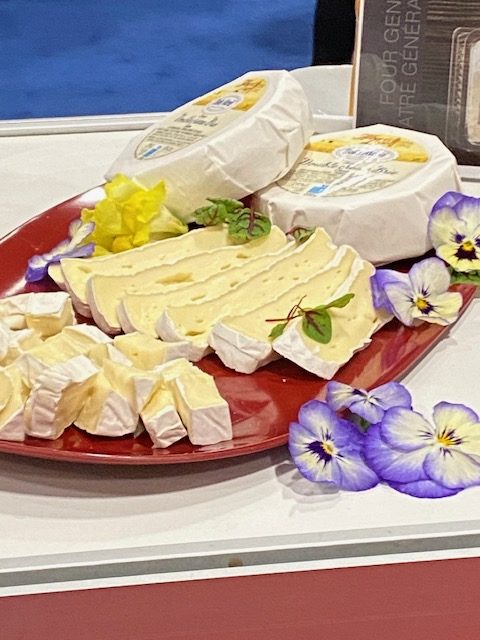 As they were setting up for the international cheese competition, I noticed what looked like a clarinet case on a chair. It seemed odd to me until I saw one of the competition judges open up the case to take out a cheese knife! I was quite surprise, as I would have thought the event organizer would have provided knives. When I blurted out, "You brought your own knife?" the judge looked at me with surprise and said, "Of course!" Turns out, a few the judges brought their own knives…