Walking around SIAL Canada was a bit like wandering through a westernized souk – so much to take in and marvel at. A world where you're generally familiar with many things but at the same time many items are different enough that they seem new to you.
So, in today's blog I'm going to write about some products that I found particularly noteworthy. In the few instances where I'm confident they're new to the market (for example, if they were exhibiting in the Start-Up area of the show), I'll note that.
Canadian Lobster Oil – This product is brand new and it is amazing. The flavour is delicate and subtly lobster-y. It was developed by Chef Jérôme Ferrer of Europa, a Relais & Châteaux restaurant in Montreal. Chef Ferrer roasts hundreds of pounds of lobster shells to distill the flavour of lobster to which he adds a soupçon of ingredients including carrots, maple syrup, spices, Labrador Tea Leaves, and Dune Pepper. He then infused this magic essence into Canadian canola oil to create this uniquely Canadian product.
It's reasonably priced (it will retail for about $20 for 375 ml.) and thanks to the high smoke point of canola oil, its cooking uses are limited only by one's imagination. I can't wait to try it as a drizzle on pizza, soup, salads, risotto, and so on. The first thing I'm going to try it in is homemade mayo!
The packaging is beautiful – the delicate pink-hued oil is in a fashionable glass bottle that's sealed with a generous crimson wax top. It's clearly packaged for gift giving and for showing off on one's table. It's so new that they're still working on the distribution – but keep an eye out for it in gourmet stores near you.
La Presserie Premium Cold Pressed Cocktail Mixers – this product won the Bronze SIAL Innovation 2023 Award. (Interestingly, this Scarborough-based company's Cold Pressed Plant-Based Dressings and Dips won the Bronze Award for product innovation at SIAL 2022 in Montreal – clearly they're doing a lot right.) The frozen cocktail mixes come in six flavours, including my favourite: mojito. Each 213 ml. bottle is enough for two cocktails – you simply defrost the concentrate in the fridge and fill two tall glasses with ice. Then you pour half the bottle in each glass and add about 1.5 oz of whatever type of liquor you want (rum in the case of a mojito), then top it up with some club soda and voila – you have a sophisticated, complex-flavoured cocktail with almost no effort. (Or, if you prefer a non-alcoholic cocktail just substitute club soda for the liquor.)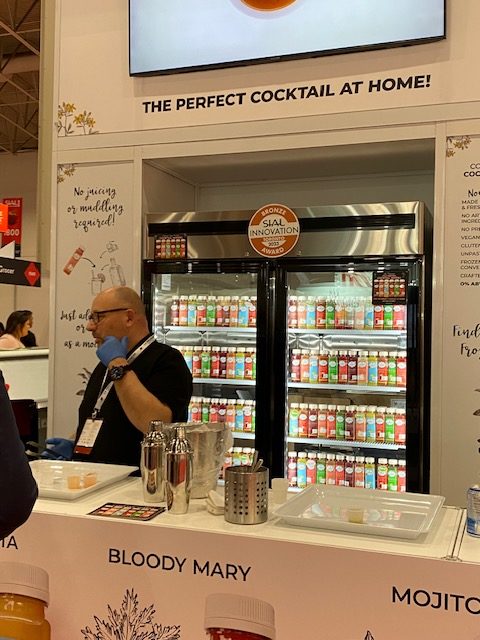 These mixers were a huge hit at the show – and rightly so. La Presserie is well known for its cold press products – things like juices, smoothies, and dressings. They don't add water, refined sugars, or artificial ingredients. So, if you taste the mojito mix on its own, it pretty much tastes like the perfect mix of just lime juice, mint, and agave. You can find the cocktail mixes at select grocery stores (I think the person I was talking to mentioned Longos) and other food stores, as well as on-line.
Enercheez – this snack product has been around for some time, but I'd never seen it or heard of it. Their booth was among the Dairy Farmer's of Canada section so I knew it was cheese-related but when I saw it, I thought it was popcorn that might be cheese flavoured. As soon as I picked up a piece to pop it in my mouth, however, I realized it was too heavy to be a piece of popcorn.
This clever product is, in fact, dehydrated cheddar cheese! Mountain Munchies Inc., the BC company that makes it, promotes it as a high protein, zero carb snack. It has no preservatives or additives. You can eat it out of the bag, or you can use it to add crunch to salads or in soups (instead of croutons), for example. For cheese-lovers and folks on the go, it's a convenient way to bring cheese with you without having to worry about keeping it cold. What a terrific – and delicious — idea! It's available on-line and at an interesting variety of stores (for example Mountain Equipment Coop, select Sobeys, and many other places)
Freezo – I like cold coffee drinks so I was drawn to this powder that's for the consumer to make frozen coffee frappes at home. Freezchino was created over 15 years ago but it was for the food industry only. During pandemic lockdowns folks were looking for a way of making coffee frappes at home, so the company adapted the product for home use. Just add ice cubes, milk, and Freezo to your blender and blend for a couple minutes and you have a delicious creamy concoction. It's new to the market (it was in the Start-Up section of the show) and the classic and lite version are available on-line.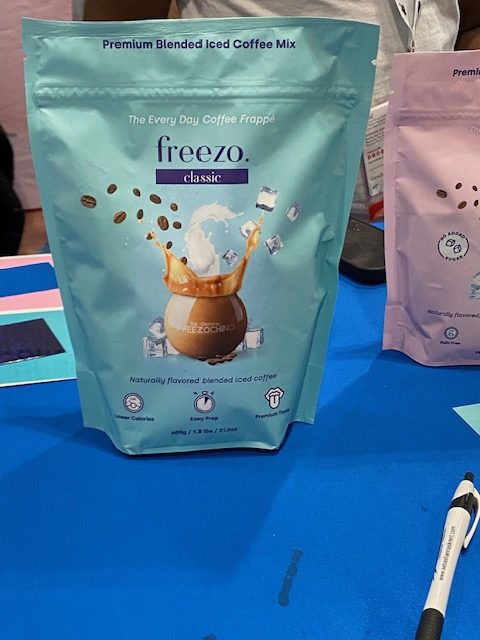 HealTea – This product won second place in the Start-Up Pitch Competition. HealTeas are herbal drinks in individual servings (355 ml cans). It's meant as a convenient, healthy alternative beverage for folks on the go or for those who just want something different. I like tea and when I saw the name, I thought it's just canned herbal iced tea. As soon as I tried it, I realized it's not canned ice tea – it's really very different and quite delicious.
I don't know how they came up with the flavours, but they hit on really great combinations: Ginger and Camomile is probably the most traditional; they also have Nettle and Rosemary; and Peppermint and Dandelion. I tried them all and enjoyed them all – though I think my favourite is Peppermint and Dandelion. They have found the perfect balance of herbal flavour with a bit of maple syrup and lemon juice and each is only 35 calories. All the flavours are available in sparkling or still, which I think is brilliant. They are available on-line and in select grocery stores.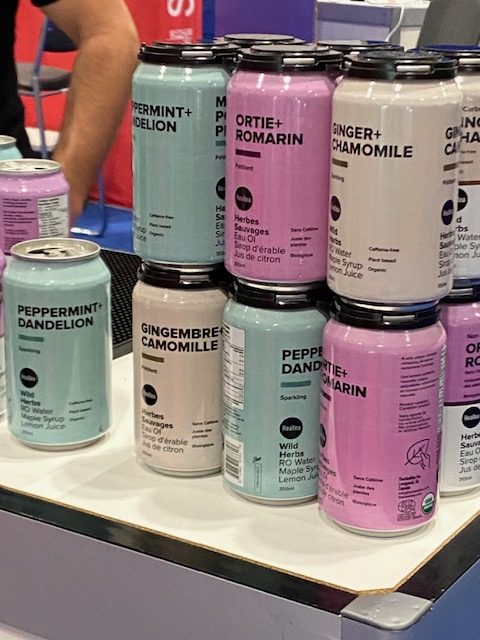 Siip – this Toronto-based start-up won first prize in the Start-Up Pitch Competition. The husband and wife who created this product used to have a soup restaurant in downtown Toronto. They realized some of their restaurant customers were taking a serving of soup back to their office to enjoy later in the workday as a healthy snack. So, they set out to create an instant broth that folks could have at home or at the office.
They created a line of powdered broths that you enjoy by simply adding to a cup of boiling water. Their roasted chicken bone broth has 8 grams of protein per serving and their beef bone broth has 10 grams of protein, plus 5 grams of collagen. They also have a vegan broth that contains 600 mg of adaptogenic mushrooms. It is available on-line and in select stores.
Nomzicles – these are fudgesicles that are made without refined sugar. These delightful 110 calorie desserts are made with only four ingredients: spring water, cashews, dates, and cocoa. They have been around a few years, though I had never seen them. They're available on-line and at select stores. At SIAL they were being handed out from an adorable, old-fashioned ice box bicycle that would be great at corporate events, street festivals, and farmers markets. (I asked the young woman who I chatted with at the Nomz booth about whether they have used that little bicycle at local events and they have not, though maybe after the success they had at SIAL they'll consider getting it out to events in the Toronto area.)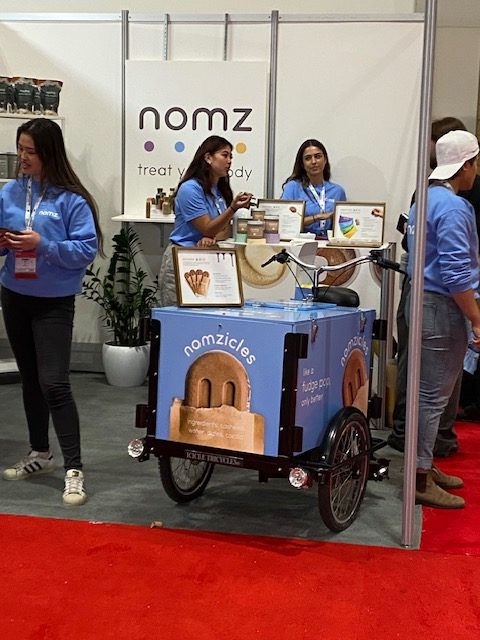 Boobie Latte by Milksta – I saw the pitch for this product at the Start-Up Pitch Competition. It was created by a Canadian certified breastfeeding specialist for women who are nursing and who want to enjoy a plant-based latte without the guilt of caffeine. I couldn't find the Milksta booth so I didn't actually try this product – but I thought it was interesting that a company is focused on creating products specifically to help satisfy breastfeeding women's cravings in a healthy way. The products are available on-line.
And of course, in my previous blog I mentioned two other new Canadian drinks that I really enjoyed: Piquette, the zero alcohol wine-style beverage, and Copper Rose Vodka.