It's rare that I plan wine-related travel much in advance, but I've just confirmed my plans to attend the Shores of Erie International Wine Festival in September. I've heard lots of good things about the annual four-day event in the Lake Erie/Pelee Island Region and so I've decided to check it out. (The fact that tickets for Saturday, Sept. 7th are already sold out is a sign of just how popular the event is.)
According to the festival web site there will be 23 Ontario winery booths and 26 restaurants. Among the wineries that will be there are the following from the EPIC (which stands for: Essex/Pelee Island/Coast) region: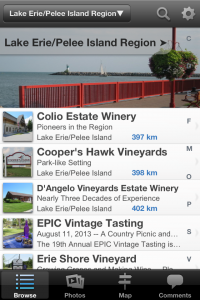 Aleksander Estate Winery,
Colio Estate Wines,
Cooper's Hawk Vineyards,
CREW (Colchester Ridge Estate Winery),
D'Angelo Estate Winery,
Erie Shore Vineyard,
Mastronardi Estate Winery,
Muscedere Vineyards,
North 42 Degrees Estate Winery,
Oxley Estate Winery,
Pelee Island Winery,
Sprucewood Shores Estate Winery, and
Viewpointe Estate Winery.
I'm looking forward to the festival and to revisiting the region. (While I'm out there I'll also take the opportunity to stop in at a few of the wineries that I've not yet visited, so keep your eye out for an app update with the new entries shortly after I return.)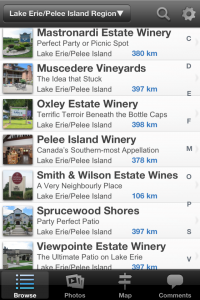 So — if you're wondering what to do the first weekend after Labour Day — why not head toward the western end of Lake Erie and check out the Festival. It runs from September 5-8 but tickets are selling fast, so make your plans soon.
For more information (and to order tickets) check out the festival website: www.soewinefestival.com/
See you there!