On Friday night I was at the Shores of Erie International Wine Festival (SOE for short), in Amherstburg, Ontar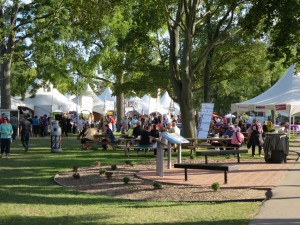 io.
The SOE is a four-day festival showcasing wineries from the so-called EPIC region (Essex, Pelee Island, Coast) along with food prepared by well-known restaurants from the area and live bands.
This year is the 9th edition of the popular festival, with tickets selling out in advance for the Friday and Saturday festivities. The festival is on the grounds of historic Fort Malden, which overlooks the Detroit River.
The crowd on Friday night was big, but it didn't feel crowded because all the wineries had two booths and there were plenty of tables of all sorts where folks could sit and socialize. It was clear that many of the people there make it an annual event – a place to go with friends and enjoy great wines and tasty food at reasonable costs.
To get wine you purchased poker tokens for $5. A 5 oz. glass of wine was 1 token at all the wineries, and entire bottles were 5 tokens. You paid for food directly at the individual booths.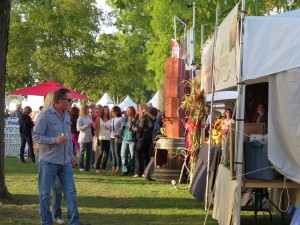 App Update Coming Soon!
Besides going to the wine festival, I also stopped in at some EPIC wineries I hadn't been to before and I'm working on entires for those wineries. So, watch for an update of the App soon!