I don't have children, so maybe I shouldn't admit this – but I'm surprised at how many wineries are kid friendly. It's not that I figured wineries are like bars because they serve alcohol, so it's not the kind of place you'd bring children. It's more that I thought it might be kind of boring for kids to be brought to a winery.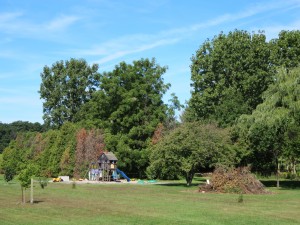 Well, through my many winery visits, I've come to realize that many winery owners are parents – and grandparents – and so they're tuned into what it takes to entertain children while their parents are enjoying their winery visit.
The first thing I noticed, for example, at Black Bear Estate Winery was a sign urging people to slow down and drive carefully as there are grandchildren around.  And out back at Cooper's Hawk there's a swing set that Tom O'Brien's grandkids enjoy, as I'm sure other kid-size visitors do. Sally Peck of Sugar Bush Vineyards keeps a stash of dinosaurs that she says are Very popular with certain pint-sized visitors. Fielding Estates also prides itself on being Kid Friendly.
So – if you're like me and assumed visiting Ontario Wineries is pretty much an adults only activity – think again. Or, to put it another way – if you're interested in exploring Ontario Wineries and you've got the kids in tow, don't worry – chances are there's lots to keep the wee ones busy while you enjoy other pleasures the wineries have to offer.