I was writing up an app entry for Still Waters Distillery and when I went to put a link to their website I noticed that they spelled whisky without an e between the k and the y. Confused, I went to my liquor cabinet and pulled out two bottles of "the stuff": a bottle of Sortilège (a Quebec Canadian whisky with maple syrup liqueur) and Jack Daniels (Tennessee Sour Mash Whiskey). No wonder I was confused!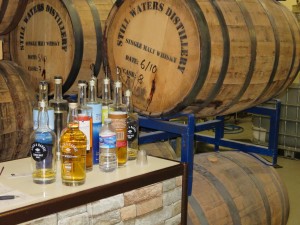 Ever insecure in my spelling abilities, I phoned up Barry Bernstein, one of the founders of Still Waters Distillery, and I asked him what's up with the spelling. Barry set me straight, but I have to say, his answer didn't make the task of knowing how to spell it that much easier.
It seems the spelling depends. (And what it depends on isn't whether the writer is a bad speller!) Apparently, for American and Irish whiskeys there is an e between the k and the y – but for any other whisky – there's no e.
So – don't blame me if you come across references to whiskies in the app that you think are typos – they're not: if we're talking about the Canadian stuff – it's whisky.