As promised, a bit more about the new program that allows Ontario wineries to sell and offer tastings of their VQA wines at Farmers' Markets.
The program, which started on May 1, 2014, is a two-year pilot being run by the Alcohol and Gaming Commission of Ontario (AGCO). Only wineries that have a manufacturer's licence can participate – that means you won't see any home brewers setting up a booth. Also, only  Vintners' Quality Alliance (VQA) wines can be sold at the markets. (So, for those wineries that have both VQA and non-VQA wines in their portfolios, they'll only be able to sell VQA wines at the markets.)
There are also rules about what markets qualify – basically they have to be centrally located (so no side-of-the-road sales from pick-up trucks!) and have stalls at which people offer for sale farm products, baked goods and preserved foods that are their own products. The AGCO has a list of Farmers' Markets across the province at which wineries can sell. The list is updated weekly. Here's a  list of the markets as of June 16, 2014.
The wineries can sell at any number of Farmers' Markets, so if you happen to visit a couple markets on a given day, it's possible you'll see a particular winery at multiple markets on one day. But, a winery cannot be at a particular market more than three times a week. (So far that doesn't seem like much of a restriction, given that most Farmers' Markets are only open a few days a week.)
One other curious requirement is that the wines must be transported from the winery on the day they are for sale at a market and any unsold wine must be returned to the winery at the end of the day. So, for the wineries that means a lot of schlepping on market day – and a lot of early mornings to make sure that the wines get to the market on time.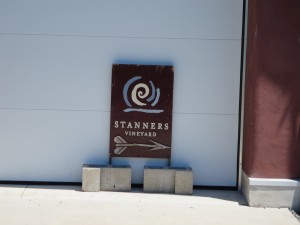 Stanners Vineyard is a small winery (they produce about 1000 cases/year) in Prince Edward County. They're participating in the program at a number of markets here in the Toronto area. (Just imagine what time they have to leave the winery in PEC to set up shop at a booth here in Toronto by 9 a.m. on a Saturday!) I asked Colin Stanner, owner and winemaker at Stanners Vineyard, about their participation in the program.
Colin said they decided to participate because their wines aren't available at the LCBO and they saw the program as a way to give people a chance to try and buy their wines without having to make a trip to the winery or buy on-line without having tasted the wines. They also like the idea of being able get their wines "to people right in their own neighborhood".
As for how they decide what wines to bring each week, Colin said they like to have a couple of reds and a couple of whites for people to choose from. So far they've not brought more than five different wines to the markets. Their plan is to vary what they bring each week, including new releases. (Apparently their 2012 Cab Franc will be out soon, and after that they'll bring out their 2013 Pinot Gris.)
And finally, when asked how it's been going, Colin admitted it's been a lot of driving and a fair bit of work to set up and take down each time, but sales have been good and he's been pleased with it. "The Farmers' Market atmosphere is festive and people have been so happy to finally be able to taste and buy while at a market! … It's also very fun to meet people in the market environment and talk with them about our wine," he said.
From the consumer's perspective the program is clearly welcome. Let's hope it pays off for the wineries…
FYI — Stanners Vineyard will be at the Aurora Farmers' Market on Saturday, June 21, 2014 and Leslieville Farmers' Market on Sunday, June 22, 2014. As for the rest of the summer, they're also attending the Junction Farmers Market, Withrow Park Farmers' Market, Wychwood Barns, the Sorauren Farmers' market, and the Concord Park Place Market in North York. Check their Facebook page for specific dates and times.