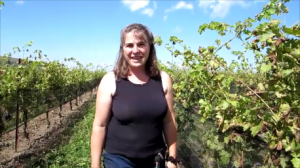 This week I was out at Southbrook Vineyards in Niagara-on-the-Lake and Ann Sperling, Director, Winemaking and Viticulture, was kind enough to show me around the vineyard.
Seems the harvest in the Niagara region is going to be late this year (by about three weeks) because of the slow start after the harsh winter and the very wet spring and early summer. Fortunately, though some of us city folk have been complaining about the heat this past week, the growers are thankful for it, as it's good for the grapes.
Walking through the vines, it was surprising how many of the individual clusters had grapes that were green and grapes that were a deep purple. I asked Ann about this and she explained that the reason for the different stages of ripeness on the same vine is because the primary, secondary, and tertiary buds broke in stages over a period that was longer than usual. The result is grapes in different stages of ripening.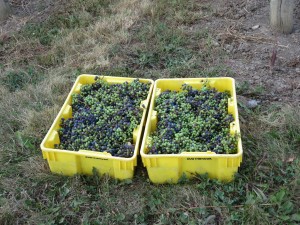 She said it's not unusual to have some green grapes among the ripe clusters and that's why they go through the vineyard and do a "Green Harvest". This involves trimming out the green grapes from the other ripe grapes. Normally, when they Green Harvest they just take off the less ripe bunches and drop them.
This year, however, because there's a fair bit of green among the riper grapes, Southbrook is going to harvest the grapes from the Green Harvest. And, in the spirit of waste not, want not – this year Southbrook will be using them to make verjus.
Here is a short video of Ann Sperling explaining the Green Harvest.