Cuvée's Grand Tasting is the opportunity to enjoy Ontario wines you may not have tried before, or that you may not have too often. Turns out, it's also a chance to enjoy food you may not have too often – at least if you stop by Chef Justin Downes's food station.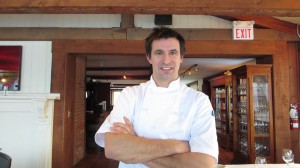 Chef Downes, the Executive Chef at The Restaurant at Vineland Estates, will be serving two things: pickled tongue sliders and a spin on a niçoise featuring fresh rare seared tuna with octopus salad. You read that right – pickled tongue!
In choosing what he'd serve, Downes, who has been at Vineland Estates for 14 years, wanted to offer up something out of the ordinary and tongue certainly is that! Mind you, he's served tongue for quite some time at The Restaurant at Vineland Estates and he says it's gone over quite well.
Given the number of people who attend Cuvée, I wondered whether serving hundreds of people presents particular challenges. Downes explained that it's not that different from serving in the restaurant because he and his team simply plate them and serve them one-at-a time – it's not like trying to serve 500 hot entrees all at the same time as you would a sit-down banquet.
Here's a short video of Chef Downes talking about his plans for banging it out of the park this year at Cuvée. (He also offers a pretty scrumptious description of those sliders and the tuna and octopus dish!)